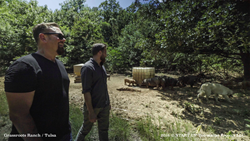 "We are inspired by small business owners' passion, purpose and driving ambition, so we are very excited to partner with START UP to share these entrepreneurs' stories with the nation," said Vistaprint Senior Marketing Director, Michael Buckley.
DETROIT (PRWEB) October 12, 2018
Media Contacts: Jenny Feterovich 248.739.6197
SEASON 6 OF NATIONAL TELEVISION SERIES "START UP" PROFILES ENTREPRENEURS FROM MIDDLE AMERICA
13-episode reality series filmed across 6 U.S. cities
START UP Season 6, a television docs-series highlighting the struggles and victories of entrepreneurs in 6 cities across the United States, returns for its 6th season (check local listings). START UP provides an up-close and personal look into today's small business success stories. In each episode, creator and host Gary Bredow, director Raisa Churina and producer Jenny Feterovich continue to reveal the experiences of individuals who have taken ideas and established successful businesses in an uncertain economy.
The series is distributed nationally to more than 350 PBS stations, Create TV Network and World Channel nationwide and is shown in over 96% of the country.
"The entrepreneurs that we feature on the show are committed to their community, they have overcome serious hardships to make their dream happen, and we share their valuable experiences each week on the show," says Bredow. "They embody the spirit of the American entrepreneur and we hope that they will inspire viewers who dream of taking the leap to start their own business."
Among the companies featured this season is LFLS Shoes, headquartered in Fayetteville, Arkansas. Owner, Eric Jones, launched LFLS shoes to bring customers a high-quality product at the most reasonable price possible. Growing up, Jones didn't have a glamorous lifestyle. Being raised in a harsh environment motivated him to escape his surroundings and discover life's true potential. Seeing his late mother (Gloria) consistently working and making sacrifices but still barely making it, inspired him to venture into entrepreneurship right after graduating from the University of Arkansas at Fayetteville in December of 2016. His mother passed just weeks before he graduated from college, and he explains to Bredow that she was his number one source of support and inspiration.
As well as shining a spotlight on these entrepreneurs, the creators of START UP Season 6 are also working with one of the show's lead sponsors, Vistaprint, to support small businesses and help them look professional across all their marketing. Vistaprint's design and product teams worked with selected small business owners to understand their goals and marketing challenges and provide them with a complete rebrand. The company created a new logo and brand identity for each of these businesses and offered them a selection of curated marketing products to meet their needs. The brand transformation of these businesses was captured in four unique episodes that will be distributed via Vistaprint's social platforms.
"We are inspired by small business owners' passion, purpose and driving ambition, so we are very excited to partner with START UP to share these entrepreneurs' stories with the nation," said Vistaprint Senior Marketing Director, Michael Buckley. "We are also aware of the struggles small business owners can face, with marketing being one of their top challenges. Through this partnership, we wanted to provide small businesses with the tools and know-how to look professional, while educating other small business owners with marketing and design advice."
In its sixth season, START UP features small business owners in Omaha, Lincoln, Kansas City, Tulsa, Broken Arrow and Fayetteville.
"It's estimated that 85 percent of new businesses fail," says Bredow. "Throughout middle America, we are seeing average Americans doing extraordinary things, and we're very excited to share their stories."
For more information about the television docu-series, please visit HYPERLINK "http://www.startup-usa.com"http://www.startup-usa.com.
***
About Vistaprint
Vistaprint is a global e-commerce brand empowering more than 17 million small business owners to professionally promote their business with quality printed and digital marketing products at an affordable price. Our world-class online design studio allows customers to easily customize their products including business cards, marketing materials, signage, promotional products, apparel, websites, digital marketing, cards and stationery at http://www.vistaprint.com. Our patented printing technique allows us to maximize efficiency and consistently deliver quality and value to customers. This innovative process is supported by 22 localized websites serving various global markets; world-class manufacturing facilities around the globe, including North America, Western Europe and Australia; and thousands of employees in offices worldwide. Vistaprint is a Cimpress (Nasdaq: CMPR) brand.