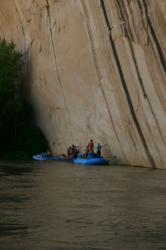 Rafting experience is not required, but some familiarity with the whitewater industry is preferred
Jensen, Utah (PRWEB) March 06, 2013
Adrift Adventures, a wilderness whitewater rafting company in Dinosaur National Monument, is accepting applications for seasonal operations manager to run logistics of daily and multi-day rafting trips on the Green River and Yampa River May 14 through Labor Day, 2013.
Qualified candidates should be professional, personable, organized and trustworthy, according to Eileen Peterson, general manager, Adrift Adventures.
"This person will supervise and schedule 13 guides and two drivers and manage the retail shop," Peterson explained. "Other duties include driving shuttles, grocery shopping and ensuring that each rafting trip meets requirements of the National Park Service."
The operations manager will also be asked to efficiently check-in rafters, direct rafters to various locations, sell and restock retail items, enter data, and handle various methods of payment, according to Peterson.
"Rafting experience is not required, but some familiarity with the whitewater industry is preferred," Peterson said. "The most important attributes are being well organized with attention to detail."
Adrift Adventures is hoping to fill this position by the end of March with the operations manager reporting to Jensen, Utah for a Yampa River training trip no later than May 14, 2013, according to Travis Hochard, operations manager at River Runners – parent company to Adrift Adventures.
Interested applicants should submit a cover letter, resume and three references to rafting@whitewater.net. The operations manager will work in Jensen, Utah near the entrance to Dinosaur National Monument from mid-May through Labor Day. Pay is $14-$16 per hour depending on experience.
Adrift Adventures, authorized concessionaire of the National Park Service, operates one-day, four-day and five-day Utah and Colorado rafting trips on the Green River and Yampa River in Dinosaur National Monument. Learn more about Adrift Adventures at http://www.adrift.com or call 1-800-723-8987.