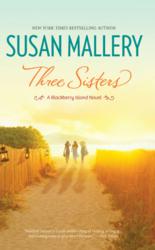 Library Journal calls Three Sisters by Susan Mallery "an engrossing tale of emotional growth and the healing power of friendship."
Seattle, WA (PRWEB) March 10, 2013
Seattle author Susan Mallery debuted at #16 on the New York Times bestsellers list and #19 on the USA Today bestsellers lists with her latest women's fiction novel, Three Sisters. Library Journal calls the bestselling book "an engrossing tale of emotional growth and the healing power of friendship." Mallery, who lives in Bellevue, makes frequent appearances on both lists. In 2012, her books spent a combined total of 41 weeks on the USA Today bestsellers list.
Three Sisters is set on fictional Blackberry Island, which Mallery says was inspired by several of the beautiful islands in the Puget Sound.
"The first time Blackberry Island came to me was when my husband and I took a weekend getaway to Bainbridge Island. I love Seattle, but there was something almost magical about leaving the city behind. The air feels cooler, cleaner going into your lungs. And when you exhale, it's as if you're letting go of all of the tension of the workweek. That mini-vacation, which was supposed to be all about relaxing, turned into one of my most productive work experiences ever, since it gave me the genesis for a trilogy of books."
Since then, Mallery has visited San Juan Island and Whidbey Island. Blackberry Island, she says, is not modeled after any of them specifically.
"Using an actual place doesn't always work in fiction," Mallery says. "Believe me, I hear from readers if I make a mistake with the details of a real place."
Three Sisters is the realistic, at times painful story of three women, next door neighbors, who are each at an emotional crossroads. After being jilted at the altar, pediatrician Andi has bought a dilapidated Queen Anne home on Blackberry Island to start a new life. When she begins to have feelings for the contractor she hired to help renovate the house, she must decide whether she's willing to risk her heart again.
The women who live in the houses next door have problems of their own, including once happy marriages that could be on the cusp of divorce. With themes ranging from grief to mental illness to romance and, ultimately, the transformative power of female friendship, Three Sisters was chosen by Rhapsody Book Club as one of the Top 13 New Books of 2013.
The final book of the Blackberry Island trilogy, as yet untitled, is scheduled for release in the spring of 2014.