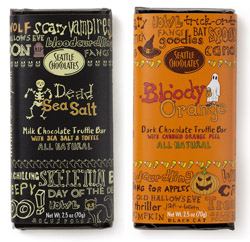 Seattle, WA (PRWEB) September 24, 2012
Fun and fashionable American chocolate maker Seattle Chocolates brings a touch of whimsy to Halloween with the introduction of two limited-edition, all-natural truffle bars: Dead Sea Salt and Bloody Orange. The bars, which are available online and at thousands of independently owned groceries and boutiques nationally, make welcome hostess gifts for Halloween parties and a frighteningly delightful surprise for friends, teachers, colleagues or your favorite trick-or-treaters.
Dead Sea Salt Milk Chocolate Truffle Bar with Sea Salt & Toffee
(SRP $3.00/2.5oz bar)
Seattle Chocolates' popular San Juan Sea Salt Bar gets a spooktacular makeover in this sweet & salty chocolate blend. Made with buttery toffee pieces, sea salt, and creamy milk chocolate, this combo will please even the most discriminating chocolate palate.
Bloody Orange Dark Chocolate Truffle Bar with Candied Orange Peel
(SRP $3.00/2.5oz bar)
This tongue-tingling flavor combination brings together rich, dark chocolate with the lively flavor of candied orange peel made from fresh navel oranges.
The company also offers a Halloween Assortment truffle bag, a five-ounce assortment of Dark Chocolate and Toffee truffles festively wrapped in orange and black foil and tied with a vibrant orange ribbon. The Fall Assortment is a five-ounce assortment of Peanut Butter, Toffee and Espresso Truffles wrapped in fall colors and tied with an elegant brown ribbon. Both assortments come with a holiday appropriate tag for easy gifting (SRP $7.95/approx. 15 pieces).
Seattle Chocolates will release its 1950s-inspired "Baby, It's Cold Outside" holiday collection on October 1.
About Seattle Chocolate Company
Founded in 1991, Seattle Chocolates is a woman-owned company headed by CEO and owner Jean Thompson, a self-proclaimed chocoholic. To craft her small-batch chocolates, the Seattle-based chocolatier starts with only the highest quality chocolate carefully tempered to create a creamy, meltaway texture. Seattle Chocolates makes unique but deliciously accessible flavor combinations that are 100 percent natural, crafted locally and Kosher certified. The company's truffles and truffle bars are always balanced and smooth, never overly sweet, and richly satisfying.
Seattle Chocolates supports national non-profit organizations focused on women, children and cancer, such as Gilda's Club and City of Hope. One hundred percent of the profits from Survivor Chick and the Extreme Dark Chocolate Truffle Bar go toward breast cancer research. Seattle Chocolates are sold in select retailers in all 50 states, at the company's new retail shop in south Seattle and online at Seattle Chocolates Online Store. For more information, visit the company's website or join the Seattle Chocolates Facebook Community.