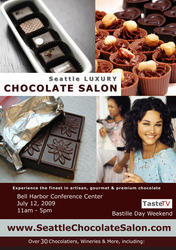 The Cafes of San Francisco
Seattle, WA (PRWEB) June 16, 2009
The 2nd Annual SEATTLE LUXURY CHOCOLATE SALON returns on July 12th, 2009 to the beautiful Seattle waterfront, continuing its tradition as the premier chocolate event in the Northwest this millennium.
Seattle CHOCOLATE SALON participants include premium chocolatiers, confectioners, wineries and other culinary artisans, such as Amano Artisan Chocolate, Theo Chocolate, Intrigue Chocolates, Oh! Chocolate, and Posh Chocolate, as well as newcomers Crave Chocolate, Forte Chocolates, Divine Chocolate, Carter's Chocolates, Chocolopolis, Chubby Chipmunk Hand-Dipped Chocolates, La Châtelaine Chocolat Co., Eat Chocolates, Choffy, The Chocolate Traveler, William Dean Chocolates, Xocai Healthy Chocolate, and Marco Polo Designs' Chocolate Jewelry.
At the Seattle Luxury CHOCOLATE SALON, chocolate aficionados, fanatics, buyers and journalists will experience the finest in artisan, gourmet & premium chocolate and specialty food items in one of the world's great culinary metropolitan areas.
New to the Seattle Luxury CHOCOLATE SALON AWARDS PANEL are food and wine gurus Tan Vinh (Seattle Times), Becky Selengut (Chef Reinvented Blog, Seattle Homes and Lifestyles, Edible Seattle), Connie Adams (Seattle Dining), Alice Currah (Savory Sweet Life blog), and Leslie Seaton (FreshPickedSeattle.com).
The Seattle Luxury CHOCOLATE SALON is Sunday, July 12th, 2009, at the Bell Harbor International Conference Center, 2211 Alaskan Way, Pier 66. 11:00 a.m. - 5:00 p.m.
Regular Tickets are $20 for Adults (Advance Purchase) and $25 at the Door.
For Advance Ticket purchases, Salon information, updated chocolatiers and other exhibitors, or for the Menu of events, go to http://www.SeattleChocolateSalon.com.
About TasteTV:
Salon sponsor TasteTV is a leading New Media food, wine and lifestyle network, covering delicious topics ranging from restaurants, food, and wine to chocolate, cooking, fashion, and style. Its videos can be seen online at http://www.TasteTV.com, ChocolateTelevision.com, BlogCritics.org, on HULU.com, Comcast On Demand, and on over 100 television stations nationwide.
TasteTV books include "The Cafes of San Francisco," "Sexy Dishes," "Chocolate French," "The Best Waterfront Dining," and "The Dog's Guide to Surfing".
###