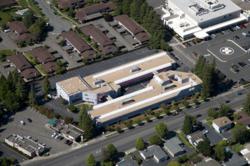 As a well-capitalized buyer, we were able to move decisively when this outstanding opportunity arose.
White Plains, NY/Napa, CA (PRWEB) May 16, 2011
A financially troubled medical office building complex has a new lease on life thanks to its recent sale to White Plains-based Seavest Healthcare Properties.
Seavest's third healthcare real estate fund has acquired 100 percent of the property located at 1100 Trancas St. in Napa for $11.2 million. The two-building, 65,000 square foot complex is located immediately adjacent to Queen of the Valley Medical Center, part of St. Joseph Health System and the only acute care hospital in Napa.
"We purchased the property from a trust servicer, who foreclosed in early 2010," says Douglas Ray, President of Seavest. "We have been monitoring the California market closely. As a well-capitalized buyer, we were able to move decisively when this outstanding opportunity arose."
San Francisco-based SKS Investments worked closely with Seavest to close the Napa Valley Medical Center transaction and will manage the property, which includes a pair of two-story buildings connected by pedestrian breezeways, all situated on about 3 acres of land.
"We congratulate Seavest Inc. and SKS Investments on the acquisition of the building at 1100 Trancas St. and look forward to continuing the same type of positive and productive relationship that we had as tenants, with the previous owner," Queen of the Valley executives said in a statement. "Queen of the Valley Medical Center welcomes the opportunity to work in concert with our community partners, as a comprehensive health resource for the Napa Valley region."
Queen of the Valley leases about 35 percent of the space in the Napa Valley Medical Center, according to Mr. Ray. Other services provided at the property include oncology, family medicine, orthopedics, pediatric and occupational therapy, bringing total occupancy to 85 percent. Seavest plans to fill the remaining space with additional healthcare-related uses.
"These buildings were constructed in the 1980s and need a facelift," Mr. Ray says. "Our ownership, management and operational style is to invest significantly in capital improvements to make the property an attractive location for the hospital and physician tenants and their patients. Mr. Ray indicated that Seavest intends to invest about $2.5 million in the property for capital improvements to the interior and exterior of the buildings, mechanical systems and parking.
The Napa Valley Medical Center acquisition is Seavest's most recent foray into the California market and its fourth acquisition in just the past few months. Earlier this month, Seavest announced that it purchased a vacant office building in Dearborn, Mich., which it plans to convert into an MOB for Henry Ford Health System and other tenants with the help of Troy, Mich.-based KIRCO. Seavest's growing national portfolio includes more than 2 million square feet of MOBs and outpatient facilities in 15 states.
Private practice physicians who are interested in leasing space in the Napa Valley Medical Center are encouraged to contact Trask Leonard at 650-282-4620 or tleonard(at)baysiderp(dot)com.
About Seavest Inc.
Established in 1981, Seavest Inc. is a real estate investment management firm focused on funding the development of, acquiring and asset managing healthcare real estate assets. A pioneer in this sector, Seavest made its first healthcare real estate investments in the mid-1980s. Today, the firm controls a significant portfolio of medical office space and manages three healthcare real estate investment funds. For more information, please visit http://www.SeavestHCP.com or call (914) 683-8474.
About Queen of the Valley Medical Center
Queen of the Valley Medical Center is a 191-bed, non-profit, acute care hospital located in Napa, California. This local and market leading healthcare provider, an affiliate of St. Joseph Health System, serves the needs of more than 135,000 residents of Napa County and its surrounding area.
About SKS Investments
Headquartered in San Francisco, California, SKS Investments is an investor, developer and advisor of commercial real estate properties in the western United States. The firm's excellent reputation and investment track record culminate from its strong operating capability, extensive network of relationships and its consistent ability to identify emerging demographic and market trends in advance of other market participants.
# # #