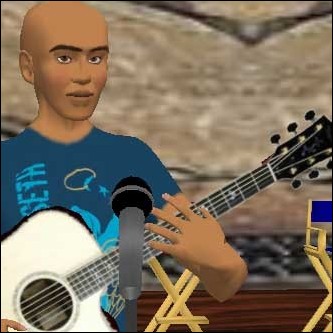 I could foresee a future were we could use technologies like Second Life to create a live Internet version of every show we play.
(PRWEB) October 26, 2006
Toronto independent band Uncle Seth are known for their high-energy live shows. Now the band is taking that show to a whole new audience -- an audience of three dimensional representations of real people known as 'avatars.'
On November 25th, Uncle Seth will play a real show at C'est What, a popular live music venue in Toronto. The audio from the live concert will be "streamed" into the virtual world known as Second Life, and avatars representing each member of the band will mimic their real life performance.
"It's amazing to think that while we're playing a live show fans from across the world will be tuning in, hearing what we're playing, watching and dancing together in Second Life, just like people will be doing at the real show in Toronto," says lead singer Tara Thompson. "I've been saying it's sort of like our version of 'live via satellite,' except instead of watching on TV, they're watching in Second Life."
Second Life is the popular online community developed by San Francesco-based Linden Labs. It uses a style of virtual reality animation that is similar to many 3D video games. But with almost a half-million regular users, Second Life is no game -- it's truly a world onto itself, built by the users who can spend and make real money in a not-so-virtual economy.
"People buy and sell real estate, virtual clothing, furniture, all sorts of things. I'm actually building a Second Life guitar collection that rivals my real one," laughs Uncle Seth bass player Jay Moonah.
Moonah, who is also an Internet new media specialist and producer of the Online Music Marketing podcast and blog, points out that promotion of music in Second Life is not new, with artists as diverse as folkie Suzanne Vega, rapper Talib Kweli and eighties superstars Duran Duran taking the plunge into virtual space. The difference, as he sees it, is that Uncle Seth are participating in the grassroots music community that is growing quickly in Second Life.
"Many of the established acts that come into Second Life do so for an event -- one live show, one CD release, one interview, something like that. Big labels will hire a PR company to do what I call a 'fly-in' with these artists. For instance, I sent an instant message to someone who I thought was Ben Folds before his Second Life CD release, and apparently his avatar was being run by some guy named 'Cory.' To me, that's not really honoring the social aspect of this new medium. What we're doing is forming relationships with the community members, going to other people's shows, participating in the economy. It's like being part of a local music scene, you have to do more than just show up when there's a gig to play."
Moonah has created a beachhead for Uncle Seth by playing solo acoustic performances with other musicians at open stages within Second Life, and establishing a storefront on the appropriately named Music City Island. The store features information on the band, and free virtual t-shirts and CDs.
"We've also created a special website that will take our fans directly to the store, it's at http://secondlifeband.com/," adds Thompson.
The Second Life portion of the concert will take place at a venue run by music podcasting pioneer and new marketing specialist C.C. Chapman. Chapman has played Uncle Seth on his podcast and Sirius Satellite Radio show Accident Hash. Chapman is incredibly enthusiastic about the event, as well as the possibilities that Second Life represents for the future of independent music, business and social interaction. He is Vice President New Marketing for crayon, a new marketing company that has recently launched in Second Life and will use the virtual world as one of its primary places of business.
"I'm so happy that musicians have stepped up and started playing shows in Second Life. Uncle Seth are a great band who have also become great friends. What I love about them is that they realize the potential of social media and it shows through how they are promoting themselves through podcasting and Second Life," says Chapman.
Uncle Seth have been recognized at home and aboard for their growing prominence in the Internet music space. Their cover of Joni Mitchell's classic song "Both Sides, Now" became a popular download in the iTunes Music Store, and earned the band a Toronto Independent Music Award for Best Classic Rock Performance. They have been also been dubbed the "official band of Canadian podcasting" by veteran podcasters including Tod Maffin, Mark Blevis and Bob Goyetche. The band has also been played on many popular international podcasts, including Jason Evangelho's Insomnia Radio, Brian Ibbot's Coverville, George Smyth's Eclectic Mix and Phil Coyne's Bitjobs for the Masses. In September 2006, the band's latest single "To Be An Angel" found it's way to the #1 spot on the Podsafe Music Network, a site run by podcast pioneer Adam Curry's company Podshow, Inc.
Uncle Seth's online success has been documented on popular websites like About.com, BlogCritics.org and IndieMusician.com, and on the airwaves by 680 News in Toronto and CBC Radio One, Canada's national broadcaster. Over the summer of 2006, Uncle Seth were featured performers at Podcasters Across Borders in Kingston, Ontario and the first PodCamp in Boston, Massachusetts. The band will also be appearing at PodCamp when it makes it's way to Toronto in February of 2007.
"Second Life is a logical extension of the things we're already doing to reach out to our fans," says Moonah. "I could foresee a future were we could use technologies like Second Life to create a live Internet version of every show we play."
"The only problem with that," laughs Thompson, "is I'd have to pick out two outfits for every show, a real one and virtual one."
The Uncle Seth website, including links to subscribe to their podcast, can be found at: http://musicface.com/uncleseth/
For high-resolution images and additional biographical information, please visit:
http://musicface.com/uncleseth/press/
For more information or to arrange interviews with anyone quoted in this release, please contact Jay Moonah at 416-885-5341.
Links for people and websites mentioned
###