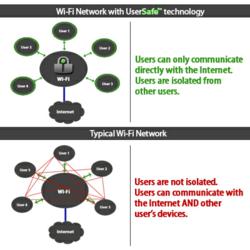 ...our hotels must provide the kind of security UserSafe™ technology offers...
Ernie Costa Jr., Director of IT for Hotels Unlimited, Inc.
New Haven, CT (PRWEB) October 26, 2011
Hot Spot users are becoming more aware of the importance of Wi-Fi network security. Apartment owners, hotel owners, restaurant and small business owners are finding it crucial to provide a 100% fully secure wireless network service to their customers.
More and more articles alerting technology users to the dangers of unsecured Wi-Fi networks are appearing online and in the news. As JOHN CRUDELE, Business Columnist of the New York Post, wrote on April 7th, 2011: "you may never again consider surfing the Web by attaching your laptop to any outside wireless network --- including the one at your favorite coffee shop, at the airport or in your hotel."
With UserSafe™ 100% security protection for your Wi-Fi network users, each device attaching to Spot On's network is isolated from all other devices. Since Spot On's networks use Secure Socket Layer ("SSL") encryption, user activities are protected from scanning and capture. UserSafe™ technology allows Wi-Fi network users to surf, shop, bank and email safely and securely over the Internet. In addition, users are protected from a host of dangerous new "hacking" apps that allow users to tamper with and gain access to files on another user's device over Wi-Fi.
Dick Sherwin, Chief Executive Officer of Spot On Networks and GuestWiFi said: "we have worked closely with our suppliers, creating software and hardware platforms that provide the highest levels of security for our customers' guests and residents that will use our services in hotels, restaurants and multifamily residential complexes". Joe Germanotta, President of GuestWiFi (Spot On Networks hospitality division) added, "Hotel guests using our services, with UserSafe™ technology, maintain their privacy regarding their data and personal information".
Ernie Costa Jr., Director of IT for Hotels Unlimited Inc., a property management company that owns and operates multiple hotels, most of which deploy Spot On's Wi-Fi networks, added: "our hotels must provide the kind of security UserSafe™ technology offers because our guests not only expect it, but by offering this secure service, we attract more of the type of guest we desire."
About Spot On Networks ("SON") and GuestWiFi
Spot On Networks ("SON") is the largest provider of high speed Wi-Fi internet to the multifamily industry and the ONLY provider equipped with UserSafe™ technology. SON deploys fully managed Wi-Fi Networks to multifamily properties, hotels and commercial spaces. Spot On UserSafe™ technology ensures that residents receive 100% security protection while surfing the web, emailing, shopping online, using passwords and more! Utilizing various technologies, SON provides high speed Wi-Fi capabilities throughout a residential complex that replace the need for DSL or Cable Modem services while providing complete mobility and faster service within that complex. SON Wi-Fi networks can also provide residential buildings with enhanced cellular and Smartphone coverage over Wi-Fi.
SON fully managed Wi-Fi networks can be provisioned for both community-wide or common-area only Wi-Fi access. SON only deploys secure, carrier-grade and CALEA compliant networks and offers the property and residents 24/7 service, support and maintenance.
GuestWiFi, the hospitality division of Spot On Networks, was originally founded in 2002 by Joe Germanotta, dubbed the "Godfather of hotel Wi-Fi" by hotelchatter.com. GuestWiFi provides fully managed high speed Wi-Fi Internet equipped with UserSafe™ technology to the hospitality industry. GuestWiFi services all classes of hotels from economy chains such as Holiday Inn Express to luxury hotels such as the Brazilian Court in Palm Beach, Florida. GuestWiFi networks are fully monitored and managed 24x7 and are compliant with all major hotel chain standards.
Since 2004, SON has deployed networks in 26 states, for over 400 properties, covering more than 75,000 residential units and over 7,000 hotel rooms. Many of the Top 50 REITS are SON customers. For more information, visit spotonnetworks.com
# # #