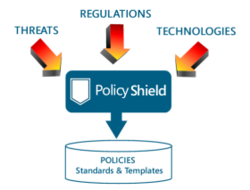 Our customer save hundreds of hours researching and writing new information security policies to defend against the latest threats.
Houston, Texas (PRWEB) November 26, 2012
Information Shield, a global provider of information security policy and compliance products, announced the latest release of their PolicyShield Security Policy Subscription. This latest release include new sample security policies covering operational security, including data backup, removable media (USB), malicious software, network security and information disposal.
"Security policy development is not a one-time event, and organizations must periodically review and update written policies in response to new threats, new technologies and regulatory changes," said David Lineman, president of Information Shield. "Our customers save thousands of dollars a year in researching and writing new security policies."
The latest release contains 44 new sample information security policies, all with expert commentary and tied to the ISO 27002 framework. New sample documents include high priority topics like employee-owned devices (BYOD) and videoconferencing security.
About the PolicyShield Security Policy Subscription
PolicyShield is the first service that enables organizations to keep written information security policies updated based on the latest threats. Many organizations don't have the time or expertise to monitor the information security landscape for new threats and then prioritize and integrate them into written policies. PolicyShield is designed to reduce the burden on in-house staff and allow them to focus on other critical information security tasks.
PolicyShield is based on Information Security Policies Made Easy by Charles Cresson Wood, CISSP, CISM, CISA, which has been the "gold-standard" security policy reference library and used by more than 9000 customers in 60 different countries.
PolicyShield contains everything an organization needs to build and maintain a complete set of written information security policies, including:
A Comprehensive Library of Information Security Policies - PolicyShield contains over 2000 pre-written information security policies covering all 123 different security topics within the ISO 27002 security standard. Each policy contains expert commentary on the risks mitigated by each policy, as well as links to related policies and filters to target policies based on organizational roles.
Regular Security Policy Updates - Each quarter subscribers receive information security and privacy policy updates in response the latest technologies, threats, and regulatory changes. Policy updates includes real-world security incidents mapped to individual policies designed to help mitigate the risks of these incidents.
Time Saving Policy Development Tools - The PolicyShield Security Policy Resource Library contains a growing list of over 90 sample templates, checklists, whitepapers, and forms to help save time in policy development and deployment.
Easy-to-Use Web Interface - PolicyShield's secure web-based system is easy to navigate and allows you to quickly locate the information you need, when you need it. Browse or search for security policies by keyword, ISO category or topic. Each policy contains a detail page with links to related policies, real-world incidents, and resources to help implement each policy with your organization. Easily locate policy-related development resources and news items.
About Information Shield
Information Shield is a global provider of information security policy and data privacy leading practices. Headquartered in Houston, Texas, Information Shield's library of security publications allow organizations to effectively build policy-based security programs that focus on compliance with international regulations. For more information, please visit http://www.informationshield.com, email sales(at)informationshield(dot)com or call 1.888.641.0500.