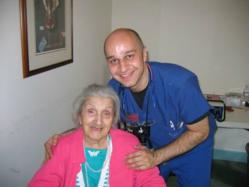 In-home care is an important aspect of dental service that many dentists choose not to provide
San Francisco, CA (PRWEB) February 27, 2012
Dr. Samer Itani, a San Francisco dentist with more than a decade of experience working with special needs patients, announces mobile dental services designed to provide infirm, immobile or phobic patients with the most comfortable and effective dental care possible. For some patients, a routine dental appointment is a struggle due to phobias, mobility issues, or behavioral or cognitive disorders. These "special needs" patients require the in-home service care that Dr. Itani provides for the San Francisco Bay Area.
"In-home care is an important aspect of dental service that many dentists choose not to provide," notes Dr. Itani. "It requires special equipment and techniques, as well as the willingness to leave the routine of our office to be available for special needs patients."
Home dental visits benefit patients with debilitating dental phobias, Alzheimer's, Down syndrome, autism, Cerebral Palsy, Parkinson's disease, full spectrum disorder, heart disease, and those who are wheelchair or bed-bound due to age or infirmity.
"Even though I hated dentists my whole life, I felt safe and knew that I was in good hands," raves one of Dr. Itani's special needs patients. "It might have been one of the best doctor experiences I have ever had!"
"I developed our Dentistry to Your Door program to provide an option for Bay Area special needs patients. With the aging of the baby boomer generation, and the rise in autistic spectrum disorders as well as phobias, I felt there was a need to increase the availability of mobile or traveling dental services," said Dr. Itani.
Dr. Itani and his team of experienced dental professionals have the specific expertise, equipment, mobility, and sedation options that special needs dentistry requires. Dr. Itani's experience in sleep and sedation dentistry, as well as several San Francisco area hospital affiliations for situations requiring general anesthesia, makes him one of the Bay Area's leading special needs dentists.
Itani Dental additionally offers general dentistry and restoration, cleaning and prevention; cosmetic restoration, and permanent dental implants available in office, as well as in a patient's home, hospital or nursing home.
For more information about Itani Dental's San Francisco dental services, call (415) 830-9631, visit http://www.itanidental.com, or stop by 450 Sutter Street, Suite 2318, San Francisco, California 94108. Become a fan of Itani Dental on Facebook at http://www.facebook.com/ItaniDentalSanFrancisco. Follow them on Twitter @ItaniDental.
About Itani Dental
Itani Dental is a leading and experienced dental practice specializing in the special needs and phobic niche of dentistry. For over 10 years, Itani Dental has offered cosmetic dentistry, emergency dentist visits, and sedation dentistry in the San Francisco Bay Area.
###