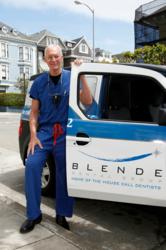 We [the SCDA] continue to address hurdles to receiving adequate dental care, especially for special needs patients, but there is work to be done
San Francisco, CA (PRWEB) May 31, 2012
Dr. David Blende of The Blende Dental Group, a pioneering San Francisco special needs dentist, who is Chief of Dentistry at the California Pacific Medical Center (CPMC) and Kaiser Permanente Hospital in San Francisco and a member of the Special Care Dentistry Association (SCDA), recently attended the 24th annual SCDA meeting which reviewed challenges to ensuring adequate access to dental care. Dr. Blende defines these challenges as a lack of awareness on the part of both patients and their caregivers, transportation issues, anxiety, and financial concerns. He explains his solutions for getting around these barriers.
"We [the SCDA] continue to address hurdles to receiving adequate dental care, especially for special needs patients, but there is work to be done," says Dr. Blende. "Thirty percent of Americans don't have access to dental care for various reasons and that number rises to 50% for seniors and those with disabilities. The net health and financial impact is enormous. Postponing care leads to emergency situations, unnecessary dental deterioration and results in increasing financial costs and health risks to patients. Most do not realize the connection between dental health and overall health and well-being, but when you see patients who postpone important work, the impact is quite apparent."
The Blende Dental Group works on removing barriers to dental care by both educating patients, their families and caregivers and by individualizing the dental treatment they offer. While most dentists offer their services in-office, the Blende Dental Group offers services either awake, asleep, or at home. Their mission is "changing lives one smile at a time: awake, asleep (in the office or at the hospital), or at home." Among special care dentists, Dr. Blende stands out as an innovator, who has managed to provide this full range of service despite the challenges that prevent other dentists from doing so.
The Blende Dental Group assembles a medical dental team to restore the patient's dental health in a timely and efficient manner. Their care coordinators work with each patient to develop a plan that meets their needs be they financial or health related. For the team, the patients, their families and care givers, this provides "a deeply meaningful experience," says Dr. Blende.
One service Dr. Blende provides to help these special needs patients is house call dental care for the homebound. He was among the first to establish such a service in the early 2000's. The Blende Dental Group's expert house call dentists travel across the Bay Area providing dental care to over 40 senior communities and over 200 patients with mobility issues each year, breaking down a significant barrier, especially among those over 80 years old.
"We strive to give our patients invaluable service whether they are disabled, homebound, phobic or elderly," says Dr. Blende.
Another service The Blende Dental Group provides to help extend dental care access to those who desperately need it is sedation dentistry. As a San Francisco sedation dentist and among the most recognized in the country, Dr. Blende is able to restore oral health no matter what condition the teeth and gums are in, or how long it's been since the patient has seen a dentist. The Blende Dental performs over 400 sedation cases in eight Bay Area hospitals each year.
"This service has opened a lot of doors for patients who thought they were either going to be in too much pain to have the necessary work done, had severe dental anxiety, or had cognitive or developmental issues that kept them from being able to sit still through an entire appointment," says Dr. Blende.
According to Dr. Blende, one of the most noteworthy barriers preventing patients from maintaining proper dental health is simply a lack of awareness that these programs and practices exist. The Blende Dental Group addresses this issue by spreading the word. Specifically, they partner with local and national organizations to raise awareness both within the health care community and among patients and their families. Today, over 60% of their referrals come from other dentists, physicians, care managers and social workers. These patients cannot be treated in a regular dental office setting due to their condition or mobility issues.
For more information about The Blende Dental Group's ability to individualize treatment for their patients call them at (415) 563-4261 or toll free at 1-800-575-3375 during normal business hours or call 1-877-HOUSE-07 (1-877-468-7307) for dental emergencies 7 days a week, 24 hours a day. Their office is at 390 Laurel Street in Presidio Heights, and you can visit them online at http://www.blendedentalgroup.com/ to make an appointment and view their full menu of services. If you are active on social media, feel free to stay in touch with their educational campaigns and events via Facebook.
About Blende Dental Group
The Blende Dental Group is a dental facility that focuses on providing special needs dentistry in San Francisco throughout the entire Bay Area. Specifically, They provide sedation dentistry in San Francisco, either in the office or in one of the eight Bay Area hospitals where Blende dentists are on staff. They also serve the surrounding Bay Area with house calls to those with mobility challenges within a 60-mile radius of San Francisco.
The Blende Dental Group is an accredited member of the Better Business Bureau and other recognized associations and has been featured in USA Today Weekend, the San Francisco Chronicle, San Francisco Magazine, the Contra Costa Times, the Marin Independent Journal, the Nob Hill Gazette, Exceptional Parent, the Alzheimer's Association newsletter and Ability magazine, among other publications. They have also been featured on ABC 7 (KGO) News with Dr. Dean Edell, and on NBC (KNTV) San Francisco Bay Area News.