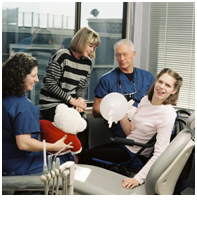 Autism is a disorder that effects a large population, but many people still remain unaware of its prevalence, as well as the health effects
San Francisco, CA (PRWEB) June 13, 2012
San Francisco special needs dentist office, The Blende Dental Group is hosting a free autism awareness event for the public on Wednesday, June 20, 2012 from 5:30 until 7 pm. The Autism and Oral Health event will include special presentations by San Francisco sedation dentist, Dr. David Blende, and experts in the "spectrum disorder" community about autism's effect on oral health. RSVP is required.
"Autism is a disorder that effects a large population, but many people still remain unaware of its prevalence, as well as the health effects," said Dr. Blende. "We hope to help bridge the knowledge gap so that the lives of children and all individuals involved with autism may be less difficult in the future."
According to http://www.AutismSpeaks.org, autism prevalence is growing and it's estimated that more children will be diagnosed with autism this year than with AIDS, diabetes and cancer combined. Autism is the fastest growing serious developmental disability in the US, effecting 1 in 88 children and 1 in 54 boys. Dr. Blende acknowledges this fact and says autism has many effects on a person's life, and can ultimately impact overall health and well-being.
"Many autistic patients fear dental work because of a lack of understanding as to what the dentist is actually doing for them," said Dr. Blende. "This typically causes years to go by without being seen by a dentist, and of course, this aggravates the existing dental issues. Fortunately, with intervention sooner rather than later, there can be positive results."
To some, like Deborah Harris, mother of RJ Harris, a recent autistic patient of The Blende Dental Group, this sounds all too familiar. Fortunately for her family and others, The Blende Dental group offers a range of services to address the diverse needs of their patients. These options include sedation dentistry (IV sedation with a physician anesthesiologist in-office or in the hospital), which allows the patient to be completely asleep during the entire procedure. For special needs patients who are homebound, house calls can be another option. These options alleviate hurdles to receiving dental care individuals with autism and with other special needs.
"My son is autistic, has Down's syndrome and a seizure disorder and hadn't had any dental work done to him in over 20 years," said Harris. "We had been turned down by many other dental offices because of the risk involved, and one even determined that if he were put under anesthesia, he may not come back. Dr. Blende refuted this and knew the exact balance of sedation needed for a successful result."
She adds, "Not only was the team technically sound, but their compassion and ability to work with me, as well as my son, as a member of their 'team,' made the entire process both successful and rewarding."
Along with Dr. Blende, the Autism and Oral Health cocktail event will feature guest speakers Emmylou Santos, a Behavioral Analyst of Ages Learning Solutions and dental assistant Victoria Cameron. These professionals will share their insights into optimizing the dental health of patients with autism and other developmental disabilities. They will cover both techniques to improve daily oral hygiene, as well as a clinical perspective on the oral health issues that arise in this group.
Refreshments will be served during the event, including local wines, summer punches, hors d'oeuvres and desserts, all crafted by The Blende Dental Group's community members. The event is free and guests are asked to RSVP at community(at)drblende(dot)com or (415) 563-4261.
For more information about The Blende Dental Group's ability to individualize treatment for their patients call them at (415) 563-4261 or toll free at 1-800-575-3375 during normal business hours or call 1-877-HOUSE-07 (1-877-468-7307) for dental emergencies 7 days a week, 24 hours a day.
The San Francisco dental office is located at 390 Laurel Street in Presidio Heights. Visit http://www.blendedentalgroup.com/ to make an appointment and view their full range of services. If you are active on social media, feel free to stay in touch with their educational campaigns and events via Facebook.
About Blende Dental Group
The Blende Dental Group is a medical-dental group that focuses on providing special needs dentistry in San Francisco and throughout the entire Bay Area. Specifically, The Blende Dental Group provides San Francisco sedation dentistry, either in the office or in one of the eight Bay Area hospitals where Blende dentists are on staff. The Blende Dental Group also serves the surrounding Bay Area with house calls to those with mobility challenges within a 60-mile radius of San Francisco.
The Blende Dental Group is an accredited member of the Better Business Bureau and other recognized associations and has been featured in USA Today Weekend, the San Francisco Chronicle, Exceptional Parent, the Alzheimer's Association newsletter and Ability magazine, among other publications. They have also been featured on ABC 7 (KGO) News with Dr. Dean Edell, and on NBC (KNTV) San Francisco Bay Area News.