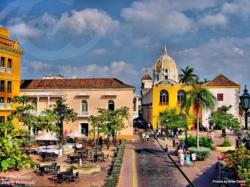 The collaboration is telling. The amount of British tourists in Colombia increased by 40% in 2010; it goes a long way to showing how perceptions of Colombia are changing in the international community.
London, UK (PRWEB UK) 20 October 2011
With Colombia emerging as one of the top vacation destinations in the world at the moment, See Colombia Travel and Footprint Travel Guides are working together to offer a promotion to followers of See Colombia Travel's newsletter, a move which See Colombia hope will promote Colombia and help attract people to a country they believe everyone needs to visit. The offer, 55% off all Colombia Guidebooks in the Footprint range for everyone that signs up to See Colombia Travel's newsletter, is part of a long campaign by both companies to give information about Colombia and South America to the world.
See Colombia Travel are one of the fastest growing companies in Colombia, offering Colombia holidays and tours to travelers from all over the world. Their newsletter not only keeps subscribers up to date with the company's ongoing promotions, but also allows readers to discover Colombia from the inside as the staff of the growing business share their thoughts and experiences from the country. See Colombia Travel's content manager, Paul Fowler, explains: "I've been traveling a long time but I've never felt the kind of excitement that's happening in Colombia at the moment. There's so much going on and we try and keep people in the loop with our main website, our Colombia travel blog and the newsletter. It's the perfect accompaniment to the Footprint Travel Guides ,which for over 80 years have been an indispensible resource of information on travel in South America."
Footprint Travel Guides were founded all the way back in 1922 in Bath, England. In 1924 they published their 1st guide: the Anglo-South American Handbook. This remained their only publication for over 50 years, but come the 70s, they began to expand, covering Central America, Mexico and the Caribbean too. Nowadays they're one of the most recognized and trusted travel publications available.
For See Colombia Travel's Paul Fowler, the opportunity to work with Footprint is particularly special. "I started reading Footprint guides when I was young and just starting to get interested in travelling. As I travelled more, I became increasingly dependent on their books and it was their book on Colombia travel that I clutched as I made my first steps in the country having made my decision to leave the UK to live here. On top of everything, they're a British company, which of course makes me very proud." The British link is significant: The amount of British tourists in Colombia increased by 40% in the last year – the highest rate in Colombia.
This collaboration between See Colombia Travel and Footprint is telling; it goes a long way to showing how perceptions of Colombia are changing not just in Britain but in the international community. Alan Murphy, publisher at Footprint, expands: "Colombia is a very important destination within South America. Having been off the tourist trail for several years, it is now top of many traveller's agendas as an exciting and relatively unknown destination. Colombia also embodies all the aspects of adventurous travel that Footprint likes to promote in its guidebooks." Unlike many of its competitors, Footprint publishes books specifically about Colombia in its excellent series covering the whole of South America.
It is the dream of See Colombia Travel that Colombia emerges as one of the most desirable travel destinations in the coming years, and they hope with the help of their promotion with Footprint it can become a reality. "Cartagena travel is already very popular," begins Paul Fowler. "But we hope by providing extensive information through our internet portals, and by offering Footprint guides this way, people will see exactly how much the country has to offer the traveler. Colombia is spellbinding and the variety available here is spectacular." Soon, they hope, you'll be going to find that out for yourself. You can find more information on the See Colombia Travel and Footprint promotion at See Colombia Travel's website: http://seecolombia.travel/footprint-guides-promotion/
###