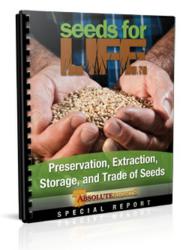 It is a proven plan to preserve, extract, trade, and even store seeds.
Austin, TX (PRWEB) March 14, 2012
A recent Absolute Rights article said that a growing contingency of Americans are reverting to the country's agricultural history and learning how to use seeds for survival. Many amateur farmers, without a strong knowledge base of planting and cultivating, are turning to the help of a Special Report entitled "Seeds for Life: Preservation, Extraction, Storage, and Trade of Seeds."
The article mentioned that the report details the life-changing system that gets people out of the consumer mindset and gives them the capacity to acquire seeds that are easy to grow, efficient, and full of nutritional value. It is a proven plan to preserve, extract, trade, and even store seeds.
There's a conceptual history behind seeds knowledge, said the article, and part of the report is devoted to helping it become better understood. "Seeds for Life" gives readers the suggestions they need to choose the seeds best suited for their particular situation, including location, dietary needs and preferences, and availability of planting space.
What most people don't realize is that so-called "fresh" produce from the grocery store has lost the majority of its intrinsic nutritional value by the time it arrives on the shelves. Another factor that most people miss is the expense of seeds. They've reached new heights since basically every food and grain commodity depends on them. Kits of 40 different kinds of seeds that weigh 12 pounds can reach prices of $500, reported the article.
Perhaps the biggest advantage "Seeds for Life" provides is the power to track down seeds that you can get completely free, according to the piece on the Absolute Rights website. Anywhere from 20 to 30 pounds of organic survival seed can be obtained for absolutely nothing.
The principles behind seeds survival are not difficult to understand, they're just involved and extensive. The article claimed that the Special Report puts a wealth of information and easy-to-follow techniques into the mind of anyone who reads it.
Absolute Rights is an organization meant to provide actionable advice and impactful insight into geopolitical and domestic issues. Get an e-book version of the "Seeds for Life" report by visiting http://www.seedsforlife.com/read/.