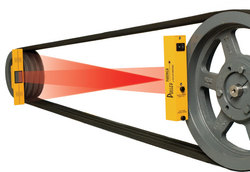 Richardson, TX (Vocus) August 16, 2010
The Pulley Partner® LRS laser alignment system for belt-driven equipment is a long range laser pulley alignment system that is lightweight, compact and durable. The unit magnetically attaches to the inside or outside face of any pulley or sprocket and has no small parts or targets that can get lost. We use our proven reflected laser beam technology for maximum angular resolution, thus providing you with the most reliable and accurate readings that no other method or tool can match.
The Pulley Partner® LRS can measure spans up to 15 ft. (4.57 m) or better with ANY size pulley, large or small. A laser line is projected from the Pulley Partner® LRS transmitter to the reflector mounted on the opposite pulley. A reference line on the reflector indicates offset and vertical angle misalignment immediately.
The laser line is then automatically reflected back to the transmitter's reference line to show horizontal angle misalignment. This ensures all major aspects of pulley misalignment are resolved. Click here to see how it works. This tool is so easy to use, a single operator can perform the alignment task in minutes with no training and it comes in its own durable carrying case.
More about Seiffert Industrial, Inc: Seiffert Industrial specializes in precision laser alignment systems for the industrial and aerospace market and has been a leader in laser alignment since 1991. We have products for use in a wide variety of precision alignment applications including laser pulley alignment and parallel roll alignment. Seiffert manufactures Pulley Partner®, Pulley Pro®, RollCheck® and RollCheck® MINI. In addition, we have a precision self-leveling laser which can be used for flange and roll parallelism, leveling and flatness, straightness and bore alignment.
For more information about our pulley laser alignment and parallel roll alignment systems and the precision self-leveling laser system, please see our website at http://www.seiffertindustrial.com or call us at 800 856-0129 (US only).
###