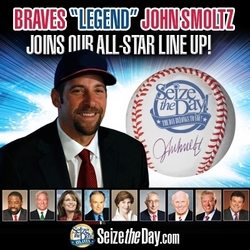 Atlanta, GA (Vocus) October 28, 2010
Today, Seize the Day, Inc., an Atlanta-based company, announced that former Atlanta Braves pitcher John Smoltz will be joining the speaker line-up for its business and motivational seminar, to be held November 9, 2010, at Philips Arena in Atlanta.
According to Seize the Day spokesman Doug Williamson, "We are pleased to have John Smoltz participate as a featured speaker in our event. Not only is John an outstanding baseball player with an amazing 20-year career with the Atlanta Braves, he is also a respected businessman and philanthropist who supports many charitable causes in the Atlanta area. We look forward to hearing John's stories and strategies for staying competitive in today's market."
Smoltz made his major league debut with the Atlanta Braves in 1988 and is considered by many to be one of the best clutch pitchers in baseball history. He spent all but one of his 21 seasons with the Braves, where he became a mainstay for a renowned pitching staff that included fellow All Stars and Cy Young Award winners Tom Glavine and Greg Maddux.
During Smoltz's years with the Braves, the team won 14 consecutive division championships, five pennants and the 1996 World Series. Smoltz was awarded the Cy Young Award in 1996. Due to an arm injury in 2001, Smoltz switched from starting pitcher to closer, a position he held for four years before returning to the starting position in 2005. Smoltz retired in 2009 as the only player in Major League history with 200 wins and 150 saves.
Today, Smoltz works as a baseball analyst for the MLB Network, TBS and Peachtree TV. He also continues to pursue an active role in golf, recently finishing 29th in the Georgia Open and vying for a spot in the U.S. Open.
Smoltz is set to join other Seize the Day headliners, including former First Lady Laura Bush, former GOP vice presidential candidate Sarah Palin, Fox News host Bill O'Reilly, pro football Hall of Famer Terry Bradshaw and actor-commentator Ben Stein. Sales training master Tom Hopkins, leadership development expert John Maxwell, investing guru Phil Town and motivational master Les Brown round out the impressive Atlanta line-up.
All speakers will appear live on stage and in person during the Atlanta event. Participants will experience a high-energy arena-style event with pyrotechnics, music, contests, networking opportunities, organized team spirit, prizes and live entertainment throughout the day. Doors to Philips Arena open at 6:45 a.m. The event runs from 8:00 a.m. to 6 p.m.
About Seize the Day Seminars
Seize the Day seminars are business and motivational seminars staged at venues throughout major cities in the United States. These one-day events are designed to educate, inspire and motivate people from all walks of life and all types of business backgrounds. Seize the Day seminars feature famous achievers from a wide variety of backgrounds, including sales and negotiation, marketing, team building, goal achievement, leadership development, productivity enhancement, personal empowerment, wealth building, business innovation, customer service, time management and more. Speakers share their personal stories and success strategies live from the stage on the day of the event. Also available is an event workbook that includes speaker outlines, how-to articles, upcoming events and a monthly calendar.
To attend this event, participants can purchase tickets online at SeizetheDay.com or by calling 1-800-952-7170. Use promo code PR22. Tickets cost $4.95 per person or $19.95 for an entire office.
###