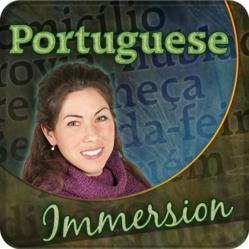 Acquire new language skills with confidence while playing fun "find it" games
San Mateo, CA (PRWEB) March 23, 2013
As new research shows the benefits of bilingual learning for the brain and the importance of foreign language skills to employers, California-based app developer Selectsoft is pleased to announce the release of Portuguese Immersion, the latest in their line of foreign language "Immersion" apps for iPhone and iPad. As an educational app developer, Selectsoft has long been committed to encouraging foreign language education for all ages, especially since strong foreign language skills can offer many benefits. For example, being comfortable with another language is often seen as a way for job seekers to stand out in a tough market, as demonstrated by a recent survey of HR managers conducted by the British Council, Booz Allen Hamilton and Ipsos Public Affairs. According to the study, released in March, finding job candidates with foreign language skills is one of the top challenges for businesses today. Asked about the importance of "intercultural skills" to employers, many organizations stated that employees with these skills bring in new clients, facilitate work within diverse teams and support the organization's brand and reputation. Multilingualism is seen as a strong indicator of these coveted intercultural abilities. However, HR managers report that fewer than half of job candidates display this skill. With Selectsoft's Language Immersion apps, users can acquire new language skills with confidence while playing fun "find it" games and exploring real-world settings.
Selectsoft's latest language release, Portuguese Immersion, features realistic environments, fast "find it" games and over 700 Portuguese words and phrases. Users listen to and speak aloud words and phrases while exploring scenes such as a restaurant or market, and matching pictures to the words. Portuguese Immersion is an easy and effective way for beginners and travelers to learn to speak Portuguese and is a quick, entertaining refresher for advanced and intermediate speakers.
In addition to potential career benefits, scientific research also continues to show the benefits of foreign language learning, as in a recent study published in the Journal of Neuroscience which suggested a connection between bilingualism and faster reaction time. According to the study, speaking more than one language can reduce the decline of cognitive flexibility over time, specifically in older adults. As a family-oriented developer with a background in both casual games and educational programs, Selectsoft is committed to creating apps that combine education with fun games for a lifetime of learning. To this end, the Language Immersion apps are part of Selectsoft's extended line of educational language apps for iOS, Android, Windows and Mac which also includes the popular Play & Learn series, the top-selling series Speak & Learn, the Flash Card Fun language apps, Spanish Travel Talk, Audio-Forum apps and more.
Portuguese Immersion is available now for iPhone and iPad on the App Store in the Education category. Selectsoft is a leading developer of family-friendly games and apps, creating best-selling games for Nintendo DS™ and Wii™, iPhone®, iPad®, Android and PC. They're also one of the largest independent publishers of PC software, featuring licensed content from Broderbund, Disney, The Learning Company and many more. For almost 20 years, Selectsoft has been dedicated to providing affordable, fun entertainment for the whole family. Visit http://www.selectsoft.com to learn more.