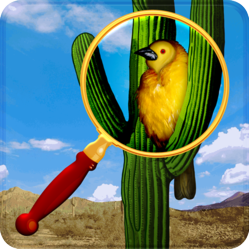 Hidden object games can provide brain benefits as well as entertainment.
San Mateo, CA (PRWEB) March 28, 2013
With a recent study providing new indications of the link between hidden object video games and improved cognitive performance, California-based game developer Selectsoft is pleased to announce the release of Mystery USA! for Mac, the newest in their line of pick-up-and-play hidden object games for players of all ages. The hidden object game is still a popular genre as players expand their gaming from desktop PCs to mobile devices like the iPad and social platforms like Facebook, and over the past year Selectsoft has introduced a series of fun, fast-playing HOGs for casual gamers. Now there is evidence that these kinds of games can provide brain benefits as well as entertainment.
According to the study from the Nanyang Technological University in Singapore, playing hidden object games can improve cognition. The research, published in the open access journal PLOS ONE, shows that different kinds of gameplay can impact different mental processes. For example, action games bettered attention and object tracking, while hidden object games enhanced visual search recognition and spatial memory. In the study, the researchers asked non-gamers to play a game one hour a day, five days a week for a month, then looked at their performance on various kinds of cognitive tasks. The video games seemed to provide "training" to particular areas of cognitive function, much like an exercise routine strengthens specific muscles. These kinds of cognitive improvements could possibly work to extend the educational potential of hidden object games created by developers like Selectsoft. The mental effects appear to be independent of the game style and more closely related to the game type. As it stands, Mystery USA! provides a streamlined version of hidden object gameplay, focusing on rich visuals without relying on complicated storylines and large time investments.
Mystery USA! joins Selectsoft's ongoing line of chart-topping iPad and Mac hidden object games that includes Secret Empires of the Ancient World, Secret Journeys: Cities of the World, Mystery Europe!, Gothic Masquerade, and The Hidden Collection. Mystery USA! invites users to explore the Grand Canyon, Texas, California and South Carolina on a seek and find adventure filled with buildings, streets, landmarks, and more. Users search colorful indoor and outdoor locations containing over 1000 carefully placed items that can challenge the observation skills of any player. In addition to classic hidden object puzzles, Mystery USA! also offers tile scrambles and object silhouette puzzles. Plus, the game features an easy-to-use touch interface, high-resolution pictures, useful hints and high-score boards.
As a publisher and developer, Selectsoft has long been interested in providing games and apps that combine educational and entertainment value, and as this latest research demonstrates, the divide between learning and play is shrinking. Mystery USA! offers classic hidden object puzzle fun for casual players and experienced hidden object fans alike, and is available now through the Mac App Store in the Games category and also for the iPad, on Google Play, on the NOOK Color™ by Barnes & Noble and on the Amazon Appstore.
Headquartered in San Mateo, California, Selectsoft is a leading developer of family-friendly games and apps, creating best-selling games for iOS, consoles, Android, Mac and PC. It's also one of the largest independent publishers of PC and Mac software, featuring licensed content from Broderbund, Disney, The Learning Company and many more. For almost 20 years, Selectsoft has been dedicated to providing affordable, fun entertainment for the whole family. Visit http://www.selectsoft.com to learn more.