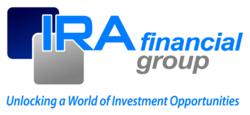 Teaming with the tax attorneys of SelfDirectedIRALawyers.com, gives our clients a level of experience and knowledge unmatched in the industry
Miami, FL (PRWEB) June 29, 2012
IRA Financial Group, the leading facilitator of "checkbook control" self directed IRA LLC solutions, announces a strategic partnership with the tax attorneys of SelfDirectedIRALawyers.com, which were created by tax attorneys who have worked at some of the largest law firms in the country. "Retirement investors deserve to have access to tax attorneys when establishing a self-directed IRA LLC", stated Maria Ritsi, a paralegal with the IRA Financial Group. "Many Americans are counting on their retirement funds to retire and we believe that working with tax attorneys to protect those funds is crucial," stated Mr. Bergman. Partnering up with the attorneys from selfdirectedIRAlawyers.com will allow IRA Financial Group clients to be properly equipped to handle any self directed IRA risks or better understand the self-directed IRA rules.
A Self-Directed IRA, also called a Self-Directed IRA LLC with checkbook control, is an IRS approved structure that allows one to use their retirement funds to make real estate and other investments tax-free and without custodian consent. The Self-Directed IRA involves the establishment of a limited liability company ("LLC") that is owned by the IRA (care of the IRA custodian) and managed by you or any third-party. As manager of the IRA LLC, the IRA holder will have control over the IRA assets to make the investments he or she wants and understands – not just investments forced upon you by Wall Street.
With a self directed IRA with checkbook control established through IRA Financial Group, each client will have the ability to work directly with a tax attorney to establish their IRS compliant self-directed IRA LLC structure. "Teaming with the tax attorneys of SelfDirectedIRALawyers.com, gives our clients a level of experience and knowledge unmatched in the industry, " stated Adam Bergman of the IRA Financial Group.
The IRA Financial Group was founded by a group of top law firm tax and ERISA lawyers who have worked at some of the largest law firms in the United States, such as White & Case LLP and Dewey & LeBoeuf LLP.
IRA Financial Group is the market's leading "Checkbook Control" Self Directed IRA and Solo 401k Plan Facilitator. We have helped thousands of clients take back control over their retirement funds while gaining the ability to invest in almost any type of investment, including real estate tax-free and without custodian consent!
To learn more about the IRA Financial Group please visit our website at http://www.irafinancialgroup.com or call 800-472-0646.