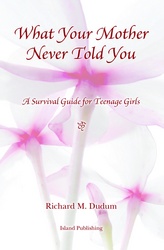 Pretending things aren't happening to your teenage girls is asking for trouble
San Francisco, CA (PRWEB) November 27, 2007
''What Your Mother Never Told You: A Survival Guide for Teenage Girls'' treads where most self-help books are afraid to go. Written by Richard Dudum, father of two daughters and two sons, this new book gives strong, clear answers to the dilemmas facing teen girls today. Don't be misled by the beautiful cover, the book is hard hitting and to the point.
''What Your Mother Never Told You'' is written for teenage girls and goes where no other self-help book has dared go -- to the heart of questions teenage girls are asking and really, really want to know how to answer.
Dudum dives deep into the most sensitive teen issues: how to drink at a party, how to get up and leave before it's too late, how to deal with mean girls and protect yourself from manipulative boys, how to handle the Internet, how to anticipate and avoid the wrong place and wrong time, and how to avoid the consequences of dressing and acting like a 'ho'. He understands the environment and predicament that teen girls face. ''What Your Mother Never Told You'' gives practical, useful and effective tools, strategies and even monologues providing common sense advice in language that teens can use, understand and immediately apply.
''What Your Mother Never Told You'' is aimed not just at teenage girls; it opens doors to understanding and communication by clarifying for parents the realities in the "teen girl world," then gently yet effectively encouraging parents to use the self-help book as a tool to open dialogue with their teens to work together through sensitive issues.
"Pretending things aren't happening to your teenage girls is asking for trouble," says Dudum. "Start talking before it's too late."
Richard Dudum is a San Francisco lawyer, musician, Realtor, summer-camp director, community leader and cancer survivor. He's been married for 25 years. ''What Your Mother Never Told You'' offers clear-sighted perspective and no-nonsense self-help advice from a father with the ability to convey tough love in a kind and supportive manner.
Richard Dudum is available for interviews immediately.
Island Publishing
12 Gough Street, Third Floor
San Francisco, CA 94103
http://www.whatyourmothernevertoldyou.net
Contact: Richard Dudum
whatyourmothernevertoldyou @ yahoo.com
Phone: (415) 626-5568
Available at: http://www.amazon.com/What-Your-Mother-Never-Told/dp/1419678698/ref=pd_bbs_sr_1?ie=UTF8&s=books&qid=1196128393&sr=8-1
###