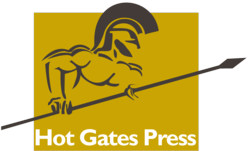 The typical self-published author is lucky to sell more than 100 copies of any book he or she writes....We believe a collective marketing approach could help them do much better.
Baltimore, MD (PRWEB) January 30, 2012
Can "critical mass" and "cross-marketing" principles help bolster sales for self-published authors and the small, "indie" publishing firms that often help them sell their books in a crowded, online market place? Jon Reisfeld, marketer and principal of Hot Gates Press, believes they can.
Today, Hot Gates Press officially launches its new Mega Book Tour website to help answer that question. The site houses what Reisfeld calls his "little marketing experiment," designed to help him test, and refine, his book-marketing ideas in a real-life lab, populated with scores of hand picked indie authors and book-bloggers.
If his theories hold up, Reisfeld says, they could "completely rewrite the online marketing playbook for the vast majority of self-published authors and small "indie" publishing houses." And that, he says, would be welcome news.
Self-published authors currently number in the hundreds of thousands and collectively dominate the publishing industry, but Reisfeld says, individually, they do not sell many books. "Most self-published books sell poorly, if at all," he says. "The typical indie author is lucky to sell more than 100 copies of any book he or she writes. At those numbers, book writing is nothing more than an expensive, time-consuming, hobby. We believe a collective marketing approach could help them do much better."
This year, according to the book-publishing website, parapublishing.com, indie authors, in the U.S., will create more than 228,000 new titles. Yet despite the overwhelming number of books vying for consumers' attention, most authors and indie publishers continue to take a "lone-ranger" approach to book marketing -- a method first established by well-heeled, mainstream publishing firms. Without substantial ad buys and a small army of publicists working behind-the-scenes, that approach rarely attracts, or sustains, much attention.
The Last Way Station Mega Book Tour program, named after Reisfeld's recently released novelette, The Last Way Station, will attempt to turn these book-marketing "lone-rangers" into a single, collective marketing posse. The Mega Tour program encourages its authors and bloggers to work together, cross promoting each other's tour-related activities, appearances and the tour's Sweepstakes to their respective online and offline followers.
The Mega Book Tour site and program provides enhanced visibility for all participants. Reisfeld says authors receive prominent placement, for themselves and their books, in the tour's Indie Author Showcase, which also connects to off-site informational links and directly to their Amazon.com sell pages. Authors in the pilot program also get to appear in one or more multi-author, virtual book-tour events.
The tour site promotes book bloggers with high-profile write-ups and link backs. It also rewards them for hosting tour-related events, Reisfeld says, by delivering a "bigger, more exciting" guest blogger format that arrives with considerable pre-production work already done. Finally, he says, the Mega Book Tour's substantial cross-marketing effort should deliver more eyeballs.
The tour's official Sweepstakes gives bloggers and authors another reason to send their followers to the site, where they can enter to win a Kindle Fire (the Grand Prize) and a series of "ebook bundle" consolation prizes, consisting of a half-dozen or more of the site's featured books.
"I don't expect we'll get everything right, right out of the box," Reisfeld says, "but this pilot effort should help us design and produce a far more effective platform for launching future group book- marketing efforts."
To see examples of Mega Book Tour events, visit Freelance and Fiction or Lynnette's Book World as Jon Reisfeld, and four featured authors, discuss "The Writing Life" on her Blog Talk Radio show.
Hot Gates Press is an online book launching company dedicated to helping self-published authors and the indie publishing firms that often represent them, achieve greater online visibility and book-sales success.
###