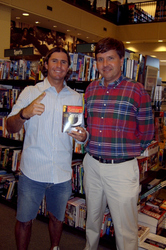 we've been working together 8 years since that losing streak and comeback, and now we can tell this story much better than anyone else because we actually lived it.
Palm Beach, FL (PRWEB) February 28, 2008
ATP Tour veteran tennis professional Vince Spadea still owns the longest losing streak in the history of tennis, having lost 21 straight matches between October of 1999 and June of 2000. His ranking disastrously plummeted from 19 in the world to 227 until he got help, built a new support team, and engineered arguably the greatest comeback ever. He rose again to 18 in the world and won his first title in Scottsdale in 2004.
While many have heard the story about Spadea's record losing streak and equally amazing resurgence, nobody has yet heard the entire story or the perhaps the most important part of it. The full story has been guarded very carefully by Spadea until now.
While Vince benefited from the motivation provided in mental coaching, a brand new team of helpers, and a new attitude, the book about to be co-authored by Spadea and his longtime sport psychologist and sometimes traveling coach, Dr. John F. Murray (http://www.JohnFMurray.com), will finally tell the whole story.
This new book tentatively titled "The Greatest Comeback" will reveal for the first time the undiagnosed mental ailment that most contributed to his losing streak, and how proper diagnosis by a licensed clinical/sport psychologist was needed to unravel the mystery and get to the true source of the problem. Proper diagnosis and treatment, along with mental skills training and support led him on a path toward recovery and ultimate glory.
Spadea recently asked Murray to co-author the book with him while they were having their regular sport psychology session together in Boca Raton, FL before Vince flew off to play the Australian Open last December. Spadea and Murray had been browsing the self-help section of the bookstore when they came upon books on comebacks that were written by authors telling other people's stories, but the authors had not lived the experience. Spadea then exclaimed, "we've been working together 8 years since that losing streak and comeback, and now we can tell this story much better than anyone else because we actually lived it."
Murray agreed to Spadea's book proposal and the two are now sharing equally as co-authors in writing about an experience they both lived day to day. The book, which should be ready by 2009, will be a no holds barred and honest account of what actually happened, what it was like to endure an historic losing streak, and what contributed to it clinically that has not yet been publicly revealed. In the book, Spadea credits proper psychological diagnosis and treatment by Murray, a licensed psychologist/sport psychologist, as crucial in helping get him back on the right track, make a full recovery, and end up a champion in the process, rather than a player who quit tennis prematurely.
Spadea's record comeback story will not only set the record straight for the first time, but this truth is better than any fiction story aims to inspire millions of people who are struggling in various aspects of life to make their own personal comebacks. Through Murray's straight talk about psychological problems, it also aims to throw open the door for many more people to seek help, and to never be ashamed about seeking counseling or psychological treatment when they need it. Vince Spadea recently achieved a career milestone of 300 wins. If a top and proud athlete can seek help and recover, then certainly anyone else can too without shame or embarrassment. The book will also show why sport psychology training needs to be of the highest standard to properly recognize and treat clinical problems when they occur, and why sport psychologists need to be properly trained and licensed as psychologists in their states too.
Dr. Murray's professional work extends to challenging clinical and performance situations in all sports. He has helped NFL quarterbacks, PGA Tour golfers, NCAA division I basketball teams, and hundreds of other athletes and teams, business executives and sales teams. While in graduate school at the University of Florida he conducted his Ph.D. dissertation on the 1997 national champion Florida Gators football team coached by Steve Spurrier.
Dr. Murray is available for interviews by calling 561-596-9898. His website with hundreds of articles, videos and audios can be found at http://www.JohnFMurray.com.
John F. Murray, PhD
Licensed Clinical and Sport Psychologist
340 Royal Poinciana Way Suite 339J
Palm Beach, FL 33480
Telephone: 561-596-9898
Web: http://www.JohnFMurray.com
Vince Spadea
ATP Tour Tennis Professional
###