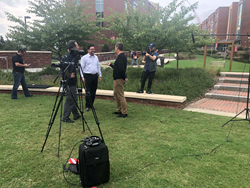 "The concept of the show is right in line with the way I see entrepreneurship and having the freedom to do what you love for a living. I love seeing people be able to spend their time, energy and effort doing what they love and have a true passion for."Andy Albright
BURLINGTON, N.C (PRWEB) October 19, 2018
The United States is filled with people who have big dreams, big ideas and a healthy entrepreneurial spirit.
Andy Albright is one of those people, and he's on the hunt to find people just like him around the country in the new season of "Self Made," when the series premieres on Oct. 22 on Amazon Prime.
Albright, an author, speaker and the President and CEO of National Agents Alliance (aka The Alliance), will take viewers around the country searching high and low to find entrepreneurs that have taken business ideas, acted boldly and put their plan in motion to find the freedom to do what they love to make a living. Albright flies around the country, searching for people who are truly living the "American Dream."
Season 2 of "Self Made" is 10 episodes and will air each Monday. Each episode profiles four different personalities sharing their success stories, and documents Albright in places like Las Vegas, Nevada; Miami, Fla.; Chicago, Ill.; Raleigh, N.C.; Portland, Ore. and beyond.
Viewers can watch "Self Made" on Amazon Prime by searching "Self Made."
The show is being produced by Hotseat Media, which has produced branded TV content and sponsored series for Chevrolet, Boston Scientific, and the Spartan Race series. "Self Made," is an episodic TV series about entrepreneurs, is entering its second season with The Alliance as the presenting sponsor.
When approached with the idea of hosting the show, Albright jumped at the opportunity.
"The concept of the show is right in line with the way I see entrepreneurship and having the freedom to do what you love for a living," Albright said. "I love seeing people be able to spend their time, energy and effort doing what they love and have a true passion for."
Chad Harris, producer of "Self Made," said having The Alliance as the season sponsor and Albright as its host was a perfect match for what the show is about.
"When you create sponsored TV content, money is only half the solution," Harris said. "If you can get a partner that also has the same goal in mind to expand the show way beyond its current audience, that is a real winner. The Alliance fit our plan perfectly. Andy Albright has the same passion we do to create the best series possible about 'Self Made' people. Having Andy as the host adds a new dynamic, as he connects those stories to the audience."
Albright said the buzz surrounding the show has been extremely positive, and he looks forward to seeing the response he gets as each episode airs.
"We are ready to roll it out," Albright said. "The show will give you ideas, and it will certainly provide you with inspiration to make things happen. It will help you stick to what you are doing and follow through. We can't wait to see it."
Viewers will be introduced to people from various backgrounds in a wide range of businesses. The show is being shot in various cities around the U.S. with Albright hosting each episode.
"I'm so excited about filming 'Self Made' with Hotseat Media and Chad Harris," Albright said. "It's about people doing crazy, big things. It's about kicking butt, grit, sticking to it and making it in America today. It's going to be crazy. People that know me know that I am passionate about entrepreneurism. It's about people making it big. We live in the land of opportunity, and we are traveling around the country looking for people that have done something special. We want to give them due recognition and give them just promotion."
Short Stories can be watched on:
Facebook @SelfMadeShow
Instagram @TheRealSelfMadeShow
About Andy Albright
Andy Albright is an entrepreneur, business owner, author and motivational speaker, who lives in Burlington, N.C. Albright co-founded National Agents Alliance (aka The Alliance) in 2002 and quickly helped it grow into one of the country's largest and most successful insurance marketing organizations, specializing in life event marketing and sales insurance marketing organization in the United States. As the top seller with companies like Mutual of Omaha, Transamerica and Foresters, The Alliance posts $100 million in sales annually. His real estate company, Andy Albright Properties includes more than 450 rental properties in N.C. and S.C. In November of 2016, Albright and his wife, Jane pledged $5 million to bolster both the NC State Entrepreneurship Initiative and the General H. Hugh Shelton Leadership Center. In honor of this extraordinary commitment, Innovation Hall is now known as the Andy and Jane Albright Innovation Hall. One component of the Albrights' gift is an endowment for the Albright Entrepreneurs Village, a Living and Learning Village, the Burlington, N.C., couple previously established. NC State's Living and Learning Villages are interest-based communities that engage students inside and outside the classroom. In 2018, Albright committed $1.5 million to build a state-of-the-art prehabilitation center for student-athletes in the Murphy Football Center at NC State. The Old North State Council of Boy Scouts of America named Albright as its Man Of The Year on May 31, 2018, in recognition for his contribution to the efforts of the Scouts. Andy has appeared in regional North Carolina magazines and newspapers, and his company was selected from a pool of 35,000 area businesses as the N.C. Triad's Fastest Growing Company by Greensboro's Triad Business Journal in 2007. Albright was named to the Triad's 2011 Movers & Shakers list by Business Leader magazine, and has appeared on several national radio shows. Albright is the author of The 8 Steps to Success, Millionaire Maker Manual and Inside The Circle. His fourth book is slated for release in January of 2019. Albright and his wife are involved with numerous charities and organizations globally.
About National Agents Alliance
National Agents Alliance (aka The Alliance) is an insurance marketing organization that recruits life insurance agents across the United States. With approximately 150 employees at the home office in Burlington, N.C., it provides a proven sales system, state-of-the-art lead program, act as liaison to carriers and provide assistance needed for agents to receive the training they need for success. NAA currently has agents in all 50 states and is dedicated to putting clients first. It is affiliated with over a dozen highly rated insurance carriers such as Mutual of Omaha, Foresters and CFG, and provide products for our agents that are in high demand. As an independent agency organization, it can provide agents with great products to offer its clients, meeting a variety of needs and budgets.
About Hotseat Media
Hotseat Media has produced branded TV content and sponsored series for Chevrolet, Boston Scientific, and the Spartan Race series. Self Made, an episodic TV series about entrepreneurs, is entering its 2nd season with The Alliance as the presenting sponsor.