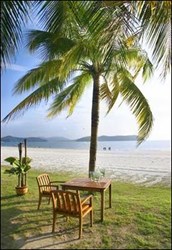 The U.S. Real Estate Market may be cooling, but beachfront real estate in Mexico is heating up
Puerto Vallarta, Mexico (PRWEB) July 13, 2007
"The U.S. Real Estate Market may be cooling, but beachfront real estate in Mexico is heating up," says David Crenshaw, Director of US Marketing and Investor Relations for PrimePuertoVallartaRealEstate.com. "I have been selling real estate in Puerto Vallarta for many years, and the growth in this area is absolutely unprecedented. We have sold out four condo properties already this year. More than half of our investors have an interest in using their IRA funds to invest here."
The U.S. Census and Federal Reserve developed some telling statistics.

78 million Americans who were 50 or older as of 2001 controlled 67% of the country's wealth, or $28 trillion.
Households headed by someone in the 55-to-64 age group had a median net worth of $112,048 in 2000 - 15 times the $7,240 reported for the under-35-age group.
Within five years, about a third, of the population is going to be at least 50 years old.
(Source: U.S. Census and Federal Reserve)
Many baby boomers over the age of 50, which have IRAs, are looking to take control or truly diversify their investment possibilities in an Individual Retirement Account (IRA). Why should an IRA holder be just limited to stocks, mutual funds or bonds when available opportunities are much broader in scope? IRA investments make it possible for baby boomers to invest in foreign real estate making Puerto Vallarta real estate a property 'boom' for boomers.
As well "over the past decade, the growth of American interest in Mexican real estate has been astounding. Reportedly, 1.5 million Americans now own property in Mexico. The primary reason for this tremendous growth is the simple fact that real estate prices in coastal areas of the US are becoming to expensive for most Americans.
Reference: http://www.imexico.co.uk/info.htm
Prime Puerto Vallarta Real Estate (http://www.PrimePuertoVallartaRealEstate.com) is an investment strategist's clearinghouse where you can find online answers to redirecting an IRA account from a traditional or Roth IRA to a truly self-directed account allowing for diversity in IRA investing. That diversity includes the purchase of beachfront property in Puerto Vallarta, Mexico.
Puerto Vallarta Beachfront Interest:
Tax sheltered IRA's have already proven a worth nearly double that of investments that are made post-tax. While the subject of a self-directed IRA may be new to many, a quick online search yields informative articles from Forbes and BusinessWeek among others.
The basis for a self-directed IRA purchase of foreign investments may seem unique, but the strategists at PrimePuertoVallartaRealEstate.com (http://www.PrimePuertoVallartaRealEstate.com) are discovering that this form if IRA is coming into its own. American property investors are using their funds to purchase property in a market that continues to show upward mobility.
David Crenshaw is the Director, U.S. Marketing and Investor Relations for Prime Puerto Vallarta Real Estate. David's award winning investment strategies have helped to finalize millions of dollars in property acquisitions each year. Regarding the potential boom in ocean front property in Puerto Vallarta. David Crenshaw has assisted many in developing a strategy to grow their retirement portfolio, which prompted him to say; "Each and every client comes to us with a different set of circumstances and funding options. Our professionals will assist you in finding the best investment plan for you. Most older investors are worried about the state of the US economy and the stock market. With so many 'baby boomers' retiring, we will see more sellers than buyers in the securities market, which will add to the ongoing economic problems in the US." The Riviera Nayarit formally known as the Mexican Gold Coast is just beginning its rise to popularity, offering a low investment entry point. "You won't need a million dollars to invest, even the most modest funds can be put to work to grow on the Mexican Coastline."