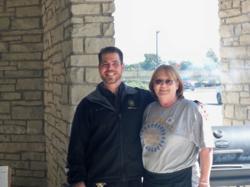 The Hope D Wall School helps so many young people in our community that is great to know that we are giving back to those who need our support
Aurora, IL (PRWEB) October 06, 2011
LifeStorage, Chicago self storage provider of home and business storage, is pleased to announce the success of its Garage Sale event at LifeStorage in Aurora. The event took place on Saturday, October 1st from 10 am to 4 pm, and was held for tenants so they could sell unwanted items from their storage spaces. Coinciding with the Garage Sale was a charity cookout, with all proceeds going towards the Hope D. Wall School, a special education facility operated by East and West Aurora Districts for Aurora students residing in District 131 and District 129.
The Hope D. Wall school opened in 1971 and is a cooperative public school, with students ranging in age from 3 to 21. The school's mission is "to value diversity in the population, and to promote effective communication among the students, families, staff, and community members."
Hope D. Wall programs provide an educational service which assist students in achieving their academic potential, providing an educational setting which enhances their emotional and social adjustment and development, and prepare them to function as productive members of society, exercising as much independence as possible.
LifeStorage Aurora Store Managers Ginger Smith and Dan O'Neil felt the Garage Sale event was a perfect opportunity to help out a community school in the process. With all the foot traffic from the tenants and curious shoppers, the cookout had maximum exposure.
"We've been approached before about trying to help Hope D. Wall with a charity school-supply drive, but unfortunately we're not the ideal location to draw that sort of traffic. Dan and I were hoping that with the Garage Sale, we'd have enough people on site that we could raise as much as possible for the school. The cookout was the perfect addition," Smith said.
This time, Smith and O'Neil were able to help out by raising funds for the Hope D. Wall school. In a single day, LifeStorage Aurora showed that with a little effort, a difference can be made in the community.
"I not only work in the community but I live here as well and I believe that helping the local community is best way to show my support. The Hope D Wall School helps so many young people in our community that is great to know that we are giving back to those who need our support," Smith said.
###