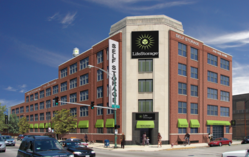 Shalonda's knowledge of the self storage industry, LifeStorage training formats, and the technology of our systems for day-to-day operations has enabled her to be a leader among her peers
Chicago, IL (PRWEB) October 03, 2011
LifeStorage, Chicago self storage provider for personal, home and business storage, is proud to announce the promotion of Shalonda Siler from Store Manager to Area Manager. The Area Manager assists the District Manager in the day-to-day overview and operations of the district. Siler will travel between 8 Chicagoland LifeStorage locations and provide continual sales, marketing, and customer-service training. Siler will also be involved in the recruitment and hiring of new store managers, coaching and retention, team building, and customer relations.
Siler started with LifeStorage in 2009 as a Store Manager at the (then) new South Loop storage location. As a new location, the facility had 0% occupancy. Within two years Siler along with Store Manager Janean Smith helped bring the occupancy rate up to 58%. In 2010, an international self-storage trade magazine, selected Siler & Smith's location as the 2010 Facility of the Year(Conversion Category). Through a focused sales and marketing strategy and maintaining a strong community presence, Siler has proven her managerial skills lead to results.
"Shalonda's knowledge of the self storage industry, LifeStorage training formats, and the technology of our systems for day-to-day operations has enabled her to be a leader among her peers. Her sales and customer-service savvy brings continuous accolades from her customers as well. She is the perfect person for this job," said Michelle Wight, LifeStorage District Manager.
"Her ability to engage her local community and bring awareness of our brand to the South-Chicago area has brought us many new business clients and rental opportunities," Wight continued. Siler & Smith recently hosted a Toast of Appreciation luncheon for 3rd Ward Alderman Pat Dowell atthe South Loop facility, and have participated in several community outreach programs and business networking groups.
"This mindset and resourcefulness has afforded Shalonda a customer base of loyal and longstanding tenants who refer her new business continually. She has a 'can do' and 'will do' attitude that is hard to find in this day and age," Wight said.
For Siler, the announcement comes as a welcome shock, and as a new opportunity and challenge. Siler said: "Upon hearing of the promotion, I was completely caught by surprise. Knowing that I work for a company that believes in its employees enough to see potential for growth, is, well, awesome! I know that LifeStorage has a full range of talented people and to be chosen for such a position is an honor. I look forward to the challenge, and I'm all in!"
With 17 Chicagoland self storage locations, LifeStorage provides the best in household and business services since 2002. Their drive-in and drive-thru convenience makes your move easy.
###