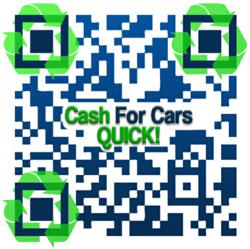 Get the most cash for cars in Los Angeles from the city's top car and truck buyer Cash for Cars Quick!
Los Angeles, California (PRWEB) March 22, 2013
America's renowned automobile recycler, Cash for Cars Quick in Los Angeles has released an all-new "how to sell my car in Los Angeles" video with all the details that help you sell your junk car or truck without any difficulty. The company itself helps car owners to sell their vehicles quickly without having to go through the lengthy paperwork involved, and all other intricacies that sellers usually want to avoid. The previous videos have already helped many Los Angeles residents to earn some extra cash by selling their junk cars and trucks. The company buys all types of vehicles whether they are running or not. The cash for cars Los Angeles office knows the hassles trying to selling an old car by placing advertisements in newspapers, or listing in online classifieds. Cash for Cars Quick has the best solution for those vehicles owners that want to avoid the difficulties of haggling with individuals that are looking to buy their cars or trucks. They have explained the steps of selling a junk car or truck quickly in their new instructional video that will prove to be very effective. Many people in Los Angeles California have already benefited from this option. To read more about what vehicles owners need to do when selling a car or truck, or to view the latest video from the cash for cars Los Angeles office visit, https://www.youtube.com/watch?v=GFXu1TRylGY
The video is sure to receive tremendous support from the residents since this selling a car can be one of the most difficult tasks. It is almost impossible to find a good buyer for your junk or unusable car, and most people are unaware of the process of getting cash for a junk car with of all the steps and the paperwork involved in the process. As a result, vehicle owners simply abandon our old cars or trucks on driveways and out their homes, and say good-bye to them without getting anything in return. Cash for Cars Quick in Los Angeles has taken a step forward to get rid of these forgotten cars for the sake of automobile waste management. This helps to make the environment free from pollution, junk cars and trucks release many hazardous fluids and acids, and the company is doing its best to buy these vehicles, so they can be properly recycled. Moreover, the company provides the cars owners with a wonderful opportunity to sell their junk cars to them and get a good amount of cash in return. The company has partnered with many automobile recycling companies in the United States, and has many potential buyers always ready to buy these vehicles for good prices. The cash for junk cars Los Angeles service believes nothing could be better for people than selling an old car for a good amount of cash than abandoning it on the road and get nothing in return. To learn more about the "how to sell my car in Los Angeles" video or to get in tough the auto buyer visit, http://www.losangelescashforcarsquick.com/
The video that has been released recently by the company has not only helped their existing customers but has also managed to attract many new clients from all over Los Angeles in the form of junk car sellers or buyers. The new video should prove to be an effective marketing effort for the company. The YouTube channel continues to receive praise from its viewers on the internet regarding the quality and effectiveness of the content, and the simplicity of the language used. The video is instructional and informative and therefore quite helpful for the general public.
Cash for Cars Quick is a popular and well sought-after auto buying company based in the Southern California. The company has managed to form offices in many cities throughout the United States to help their clients to sell old and junk cars and get some cash in return, and put the parts to some good use. The company has received enormous admiration because of its efforts to make our environment free from automobile pollution in order to live in a clean and hazard-free world. Cash for Cars Quick in Los Angeles is an established company as they have been working in the field of junk car and truck buying. The Los Angeles car buyers work professional SEO services to help with the cash for cars operation promote the message about the importance of utilizing a reputable cash for junk cars Los Angeles Company. Cash for Cars Quick continues its online presence by offering an instant quote over the phone, and regularly posts auto recycling information on the company blog and social media pages. By utilizing a internet marketing, along with instant pricing the company hopes to attract more Los Angeles residents looking to sell their vehicle. To read more on the company's cash for cars Los Angeles Facebook page visit, http://www.facebook.com/CashForCarsLosAngeles
About the Company:
Cashforcarsquick.com is a growing cash for junk cars service that offers junk car recycling and that provides a high return to the car and truck owners in Los Angeles CA and throughout the United States. The company and its partners follow environmentally friendly disposal practices to safeguard the future of the planet. To learn more about the cash for cars Los Angeles service visit the company website or call the corporate office.
Contact:
William Leonard
Phone: 888-862-3001
Email: info(at)cashforcarsquick(dot)com