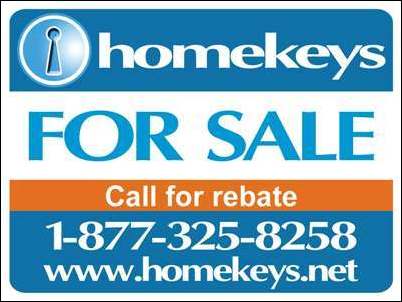 By combining innovative tools and technology with the services people need, Homekeys delivers real value at an extremely low price point
Miami, Florida (PRWEB) May 1, 2007
Homekeys has expanded its seller service areas to reach three quarters of the state of Florida. The Florida-based real estate company previously offered home buyer rebates throughout the entire sunshine state and seller services in 26 Florida counties. The service area expansion extends the company's seller offerings to 24 additional counties for a total of 50 Florida counties served.
Property taxes, insurance and Florida "homes for sale" inventory have increased while transaction volume and the availability of mortgage financing have decreased. The Homekeys expansion comes in response to hundreds of requests from Florida residents looking for relief. "By expanding our service areas, Homekeys is able to help more Florida homeowners save at least half the money they would normally pay in commission when they sell their home", says Manuel Iraola, President and CEO of Homekeys.
The team at Homekeys believes in offering sellers the broadest range of exposure and assistance options when it comes to selling their homes. "Each individual is unique and has different needs. They should be able to determine the level of involvement they wish to have in the selling process, without having to sacrifice service for savings", adds Iraola. The company offers "hands on" sellers flat fee listings in the Multiple Listing Service (MLS), Realtor.com and a myriad of other real estate websites for as little as $269. Sellers that desire more assistance can select the Homekeys Seller's Advantage™ program which provides enrollees full service for only $69 + 1% commission at closing, if they are willing to simply show their own property. And, those who need it, can also opt for traditional full service.
Homekeys' service offerings, along with the free information, tools and resources available on the homekeys.net website provide what is arguably the most comprehensive solution available to Florida home sellers who are seeking control in the real estate transaction and who want to save money. "By combining innovative tools and technology with the services people need, Homekeys delivers real value at an extremely low price point," Iraola said. "We feel that Homekeys is the best alternative for sellers who want to take charge of their real estate transactions, get better results and preserve the equity that's lost through high transaction costs."
Homekeys' expansion adds their seller offerings to the following Florida counties: Alachua, Bradford, Calhoun, Citrus, Escambia, Flagler, Franklin, Gulf, Hardee, Hernando, Highlands, Holmes, Jackson, Jefferson, Leon, Marion, Monroe, Okaloosa, Santa Rosa, St. Johns, Wakulla, Walton and Washington.
About Homekeys
HomeXperts Inc. d/b/a Homekeys is a South-Florida based developer, integrator and distributor of innovative Web-based content, applications and resources for the real estate market. The company offers Floridians more ways to buy and sell, all backed by Homekeys' innovative technology and services.
HomeXperts Inc. d/b/a Homekeys is a real estate broker in the State of Florida licensed (License CQ1019055) by the Florida Real Estate Commission through the Department of Business and Professional Regulation, Division of Real Estate. HomeXperts Inc. d/b/a Homekeys is an Equal Housing Opportunity Corporation and abides by the Code & Ethics of the National Association of REALTORS®.
###