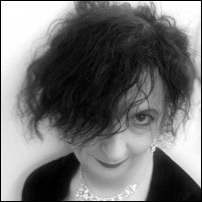 a fine balance between rock/pop tradition and inventive lunacy
Edinburgh, Scotland, UK (PRWEB) December 7, 2006
British songwriter Woodstock Taylor is inviting fans to spend the price of a couple of glasses of wine on shares in her music as part of an innovative no-risk scheme by new music website Sellaband.com, where "believers" share in artists' profits once a target figure is raised.
"I've always been partial to a glass or two of wine, but this looks like a better longterm investment for all those nice people offering to buy me drinks," says Taylor, who learned songwriting at workshops with Kinks star Ray Davies and has since recorded and performed both solo and with some of the UK's most distinguished musicians. "Plus I get to keep my liver for a bit longer, just in case."
Her invitation is working. Since she joined Sellaband after reading about it in a MySpace bulletin, twelve people from Mexico to Latvia have bought "futures" in Taylor after hearing home-recorded demo tracks on her Sellaband page, raising a cool $800 towards the $50,000 goal. Praised by critics and colleagues for her intelligent lyrics, catchy melodies, uncategorisable style and soulful, pitch-perfect singing, Woodstock is one of a growing number of unsigned artists to join the Amsterdam-based scheme, which promises successful participants the means to record an album by matching them up with suitable recording studios and industry experts.
In return for investing, fans (known as "Believers") get a free copy of the resulting CD, a cut of its sales, a share in advertising revenue generated on the website and various other perks. Each £10 increment (or "part") can be transferred to another artist or refunded at any point until the artist's account reaches $50,000.
Meantime Sellaband earn interest on the funds, which are held in escrow until the sum is raised and the contract swings into effect. Then they take 40% of publishing revenue but none of the recording profits.
Industry figures on board include legendary producer Tony Platt, musician and former head of jazz for Sony Music UK and Europe Adam Sieff and Abbey Road Studios' chief engineer Haydn Bendall. Following the success of the first act to reach $50,000, Dutch rockers Nemesea, Sellaband recently celebrated its thousandth sign-up. "Along the road" incentives like professional mastering at Sony Music Studios for artists who pass the $1000 mark before the new year are bound to keep acts selling hard.
"This is such fun," says Taylor, one of five very diverse UK acts in the site's top 30. "Till now the Internet has been amazing for independent artists like myself in terms of making international connections and raising our profiles via music websites like MySpace, GarageBand.com and IAC through networking, forums and podcasts, but frankly it's been pants when it comes to making any money directly from music sales.
"Sellaband's different, because it gives fans an incentive to get excited about acts they've never heard before and to take a gamble on them. They get the chance to be in on their chosen artists' music right from the start. They have a risk-free but utterly real choice and they are rewarded for exercising it. It's a realistic alternative to the old fashioned way of waiting for the big break or getting signed by a record label: this way we make our own breaks and get to stay independent.
" I love the fact people I've never met are putting money down on the strength of songs I've recorded in my bedroom and kitchen, and that these songs can stand up and have a life of their own. One of my songs actually features my dustbin as a kickdrum. It's real do-it-yourself lo-fi stuff. Enjoyable though things like that are to do, I'm aching to get back into the studio with some real musicians and proper equipment.
"With support from the Believers and people like Adam Sieff, it actually feels like a team effort to get this album funded and happening. I've made some pretty idiotic financial choices in the past, but I'm banking on this being one of my better decisions. If it all goes according to plan, the drinks will be on me."
Based in Edinburgh and London, in the past year Woodstock Taylor has toured as a backing singer with the vintage 1960s band formerly known as Thunderclap Newman alongside UK blues legend Zoot Money, performing songs by Cream lyricist Pete Brown, made her catwalk debut modelling Fair Trade fashions in Glasgow, recorded a dance single with Dutch electronica producer Patric Bakkenist for charity collective Sound Aid and co-starred in One Night At The Caravan Club, a musical set in the 1920s jazz era, which played to critical acclaim at the Edinburgh Festival and in London, where Woodstock recently appeared in "Andy Warhol - the Musical" alongside former Placebo keyboardist Xavior Roide. In addition to numerous live performances and podcast plays, her music appears on over a dozen compilation CDs of new music (most recently BandUnion VI, from Austria) and has been broadcast frequently on BBC radio.
"Fine quality songs" The Scotsman
"Doyenne of chanson" BBC Scotland
"a fine balance between rock/pop tradition and inventive lunacy"
...Radi8, Garageband
"In my opinion it's artists like Woodstock Taylor that should be making millions with record contracts and sold out world tours… ...it's artists like her that keep music good, because it's real."
...Groove Machine Magazine (sadly deceased)
"Delightfully British, tonally beautiful and I fear, as barking as Mister Normal himself. Monster sound."
…The Johnny Normal Musical Box
"Settle down to the moody blues songs of Woodstock Taylor, whose dark husky voice is reminiscent of Carly Simon and Hazel O'Connor."
###