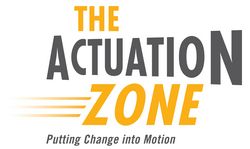 To succeed in business in the 21st century, salespeople and executives must not only adapt to change, they must lead change
Bellevue, WA (Vocus) July 8, 2010
Jeffrey Hayzlett, celebrity judge on Donald Trump's Celebrity Apprentice TV show, and author of the best-selling book, The Mirror Test, recently appeared on The Actuation Zone radio show, hosted by Brett Clay, author of the award-winning book, Selling Change. In the interview, Hayzlett asks the tough business questions and suggests the changes that executives and business owners need to be making, right now, to grow their businesses.
In an in-depth interview with Brett Clay, Jeffrey Hayzlett, business best-selling author -- 800 CEO Read, Inc. Magazine, USA Today, and the Wall Street Journal -- talks about the changes he's seeing in the marketing and business worlds, including the change from "broadcasting to narrowcasting," the role of social media in marketing, and much more.
"To succeed in business in the 21st century, salespeople and executives must not only adapt to change, they must lead change," says host Brett Clay. "I want to hear from people like Jeffrey Hayzlett who are making it happen instead of reacting as it happens to them."
Jeffrey Hayzlett is a master of driving change and creating opportunity. "If there ever were a candidate for a company to be rendered irrelevant by change, it would be Kodak," says Clay. "Yet, Kodak has not only survived, it has thrived. Jeff was there when it happened and played an instrumental role in Kodak's evolution."
In The Actuation Zone interview Hayzlett also shares the key concepts that have driven his book to be a best-seller, including asking tough business questions, the four E's of customer relations in social media, the power of ones and zeros, and the powerful '118 rule'. He says, "Business owners, executives, marketers, and salespeople must be able to communicate their value in 118 seconds." Hayzlett describes why and how in the interview.
Clay and Hayzlett also discuss how to make big changes and the concept of 'conditions of satisfaction'. Hayzlett says, "Conditions of satisfaction is one of the most valuable concepts I've ever learned in life."
Finally, Hayzlett suggests three changes people can make, right now, to grow their businesses. "It doesn't matter whether you have 2, 27, or 27,000 people in your company," says Hayzlett. "You need to make these changes, now, to survive and grow your business."
To hear Jeffrey Hayzlett's interview with Brett Clay, go to http://www.ActuationZone.com.
About The Actuation Zone Radio Show
Host, Brett Clay, author of the award-winning book Selling Change, named the Best Business Book of 2010 by the Independent Publisher Book Awards, discusses business trends and today's hot issues with thought-leaders—authors, analysts, scholars, journalists, and practitioners—who are not just adapting, but are creating and harvesting new opportunities by leading change. The Actuation Zone helps you put change into motion to achieve your goals.
For more information about the show, visit http://www.ActuationZone.com.
About Jeffrey Hayzlett
Hailed a "Celebrity CMO" by Forbes Magazine and famous for his outspoken appearances on numerous television networks, Jeffrey Hayzlett is widely recognized as one of the most influential marketers of our time. As the former Chief Marketing Officer of the iconic Eastman Kodak Company, Hayzlett has been responsible for the company's worldwide marketing operations including the design and execution of all marketing strategies, branding and corporate communications. With Hayzlett at the helm of Kodak's marketing and business development initiatives, the company experienced record growth, unveiled revolutionary new products and has established a global brand as a leader in cutting-edge research and product development.
###