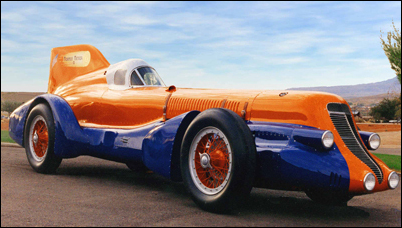 As a gathering of automotive and racing enthusiasts from around the world, the 2006 SEMA Show is the perfect place to display this car.
Salt Lake City, Utah (PRWEB) October 18, 2006
HPC (http://www.HPCoatings.com) will display the salt flats race car Mormon Meteor III, one of Motor Trend's top five most valuable cars and worth and an estimated $5 million, at the 2006 SEMA Show.
Originally driven by Bonneville salt flats racing pioneer Abbot 'Ab' Jenkins II in the 1940s, the Mormon Meteor III was designed and built by Augie Duesenberg. Jenkins drove the Meteor III into the record books setting dozens of records for speed and endurance, some of which stood for decades.
"The Mormon Meteor III helped pioneer automotive racing and build the performance industry into what it is today," said Paul Clayson, CEO of HPC. "As a gathering of automotive and racing enthusiasts from around the world, the 2006 SEMA Show is the perfect place to display this car."
Jenkins sold the race car to the state of Utah for $1. The Meteor III was put on permanent display in the State Capitol and became a popular attraction for tourists and children. However, after it was used in a parade the state lost track of the vehicle. It was found several years later damaged and neglected. Ab's son, Marvin Jenkins, led efforts to restore the car in the 1990s with help from HPC.
Engine components of the restored Mormon Meteor III were coated with HPC's innovative thermal management coatings and corrosion-resistant coatings, which provides the historic vehicle with additional protection so future generations will also have the opportunity to view this amazing car.
In addition to the Mormon Meteor III, Marvin Jenkins will also be at the SEMA show in the HPC booth to share stories about the car and his father's racing career, and hand out free autographed photos of the car. The HPC booth is located in the Central Hall booth #24167. More information on the Mormon Meteor III is available at http://www.HPCoatings.com/news.
About HPC:
High Performance Coatings Inc.™, is a worldwide leader in advanced coating technology for motorsports, industrial, aerospace, food processing and transportation industries. The company got its start in 1982 in the racing and street rod markets. At HPC™, there is a difference, and the difference is our product innovations. HiPerCoat® ceramic-aluminum coating revolutionized the header industry, and today is still the exhaust coating to which all others are compared. HPC's HiPerCoat Extreme™, with its 2000° F capability is the choice of NASCAR, NHRA, CART and IRL teams. HPC's coatings have also been used by the US military, NASA and legends in automobile racing such as NASCAR drivers Bill Elliott and Richard Petty, Indy Racing League driver and 3-time IRL champion Sam Hornish, Jr., and NHRA Pro Stock champion Warren Johnson.
###