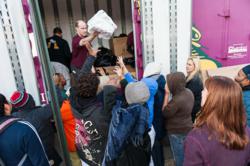 This has been a truly meaningful experience, said Alpert
Andover, MA (PRWEB) November 27, 2012
When Andover moms Diane Dillon, Carlene Alpert and Lynette Cavanaugh decided to start a collection for families of Hurricane Sandy, they never anticipated the level of generosity they would witness.
With their fields of expertise being branding, marketing, social media and sales, the "Sending Sunshine" initiative went viral within 24 hours. "In a matter of days we filled a 20,000 sq ft building (donated by Mark Harrington of Andover) with donations for families of Hurricane Sandy," said Dillon. "We were blown away by the constant stream of cars and over hundreds of volunteers during the week from all over New England that continued to donate clothing, first aid, cleaning supplies & food."
Many volunteers showed up daily including Tom McLaughlin, Irene Farmer, Lyndsay Dowd and children of all ages and spent their personal time sorting, labeling and packing everything by gender, size and category.
"We've received packages from people across the country that wanted to help but didn't know how. Sending Sunshine provided a means to allow people to make their donations personal. The outpouring of compassion and support has been breathtaking. This has been a truly meaningful experience" said Alpert.
Last week, team members at Gentle Giant Moving Company, Bob's Discount Furniture and Sending Sunshine graciously packed and delivered the donations to many parts of New York including Far Rockaway, Rockaway Beach, Queens and Staten Island. This You Tube video captured the emotional send off beginning the journey to New York.
The group hopes that others will be inspired by this story. "Sending Sunshine is a testament that the human spirit for helping our neighbors is incredible. Each of us has the power to make a difference in someone's daily life by just taking action." said Dillon.
For further information, visit Sending Sunshine on Facebook, email sendingsunshine2012(at)gmail(dot)com or contact Diane Dillon at (978)807-5520.