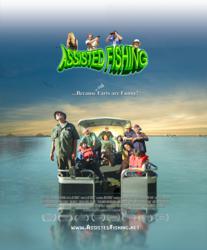 "...the humor is genuinely funny and even clever. And as a plus, the film has the sensitivity not to denigrate or disrespect senior citizens while making sport of them. By the end, we feel like we might just miss these characters." - Joe Holman
Los Angeles, CA (PRWEB) March 08, 2013
A lifelong loser dreams of finding fame and fortune by beating his arch-rival in a big fishing tournament, but in order to win he will need the help of some unlikely heroes - a group of eccentric senior citizens who live in an abusive nursing home.
The independently produced comedy movie "Assisted Fishing" has just finished a successful year of film festival screenings, having played at eight film festivals in 2012. The movie is being self-distributed by the filmmaker and is now available on DVD and for online viewing at http://www.AssistedFishing.net.
The movie won several awards during its festival run, including:
"Best Comedy Feature" at the American Independent Film Festival
"Best Editing" at the Sunset Film Festival
"The Diamond Award" at the California Film Awards
"The Golden Ace Award" at the Las Vegas Film Festival
The movie also played to packed theaters at The Macon Film Festival, The Gasparilla International Film Festival, Ft. Myers Beach Film Festival, and the prestigious Vegas Cinefest.
"Assisted Fishing" is slapstick comedy, but also has a deeper message, handling issues like love, friendship, and moral values very thoughtfully. While concerns such as elderly abuse, poorly run assisted-living homes, and Alzheimer's disease are not funny; the film manages to make light of these situations while being sensitive to the issues. "Assisted Fishing" is an award-winning movie that is an over-the-top comedy with true heart.
Written, produced and directed by Joe Crouch, using a cast of talented professional actors, the film was made for less than $50,000. Spurning the old Hollywood adage about the expense of working with water, kids or animals, this film has all these elements and quite a few special effects shots. Developments in high definition camera technology made it possible to shoot, edit and distribute the movie independently on a micro-budget.
Film reviewers and audiences alike have fallen in love with the zany characters:
"A very fun film with quite a few really fun comedy gags, filled with likeable characters and ridiculous situations that will keep you entertained throughout. This is a film that can be enjoyed by most people, and deserves to be out there and available so people can get themselves a copy." – Duane L. Martin (Rogue Cinema)
"A delightfully comedic story with its heart firmly planted in the right place." – Eric Nash (Three Movie Buffs)
"A throwback to a nuttier time in cinema… goofy and whimsical; it's family-friendly fare all around" – Mark Bell (Film Threat)
"Its like the 21st Century version of 'Caddyshack'" – Derrick Barrett (The Art Block)
"A zany, water-bound comedy" – Joe Bardi (Creative Loafing)
"...the humor is genuinely funny and even clever. And as a plus, the film has the sensitivity not to denigrate or disrespect senior citizens while making sport of them. By the end, we feel like we might just miss these characters." - Joe Holman (movie reviewer)
"If you think that Hollywood doesn't make comedy movies like they used to, then you need to check out Assisted Fishing. It's sure to become a cult classic." - Mike Blankenship (Indie Movie News)
****
Joe Crouch got his start in Hollywood in 1995, starting out working for famed B-Movie producer Roger Corman. Having worked behind the scenes on many television productions and big budget feature films, Assisted Fishing marks his directorial debut.
The Official Website of Assisted Fishing
Assisted Fishing on Amazon.com