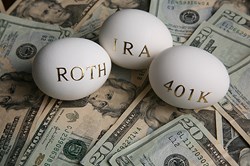 Solo 401(k) Plan is the most advantageous retirement plan for the self employed.
Yorba Linda, CA (PRWEB) November 21, 2012
Recent survey conducted by Sense Financial of all its new accounts established since beginning of the year reveals a significant increase of self-employed and small business owners switching over from their SEP IRA accounts to a more financially advantages Solo 401(k) Plan.
The popularity of the Solo 401(k) plan will continue to rise as business owners become more aware of its advantages over other similar plans. The most recent changeover can be linked back to the increased number of tax advantages provided to the self-employed through the Solo 401(K) plan.
"The growing interest is not surprising when you consider just how many advantages the Solo 401(k) plan owner enjoys over the SEP IRA. In addition Solo 401(k) plan offers far more tax planning advantages than does the SEP IRA," explained Dmitriy Fomichenko, President of Sense Financial Services.
An individual with a SEP IRA may defer 20% of their total annual income. But, with the Solo 401(k) plan, a self-employed orsmall business owner, an individual can contribute $22,500 as an employee deferral, plus a profit sharing contribution up to 20% of his salary.
Small business owners without additional employees are afforded the luxury of making increased annual contributions with a Solo 401(k) plan, (as high as $50,000 per year with an additional $5,500 in catch-up contributions for those over the age of 50.)
In addition, alternative options like investing in real estate and borrowing up to $50,000 or 50% of their account value tax-free and penalty free, means small-business owners can continue to increase their cash flow through both traditional and non-traditional investment methods.
"Sense Financial Services has made in their goal to promote the benefits of the Solo 401(k) plan for the self-employed," stated Mr. Fomichenko. "More and more individuals are starting to depart from the traditional SEP IRA accounts and starting to look towards the benefits of a Solo 401(k) Plan and we will be there to help them along the way."
Sense Financial is the California's leading provider of retirement accounts with "Checkbook Control": Solo 401(k) and Checkbook IRA. Over the years they assisted hundreds of clients obtain checkbook control over their retirement accounts while providing them the ability to invest in virtually any investment class, including real estate, private lending, mortgage notes and much more without the need for custodian approval!
To learn more about Individual 401(k) please visit http://www.SenseFinancial.com.