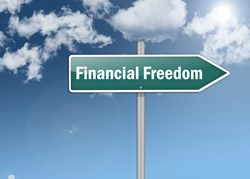 The Solo 401k Plan can be part of a powerful retirement strategy
Los Angeles, CA (PRWEB) March 28, 2013
A study conducted earlier this year found that women face a greater risk of not achieving a financially secure retirement. Unique challenges such as caretaker responsibilities, access to employer benefits, and longer life expectancies affect the ability to save for the future. These factors must be included in the development of a retirement strategy, yet almost half of all women polled did not have a clear retirement strategy in place. Self-directed retirement plans such as the Solo 401k may provide a solution to this problem.
The survey by the Transamerica Center for Retirement Studies found that most women today are focused on current priorities such as paying down debt and covering everyday living expenses. Only one in five had saving for retirement as a top priority. At the same time, most women have expectations and desires for their retirement, including travel, spending time with family and friends, and pursuing hobbies.
A disconnect exists between these expectations and the strategy needed to achieve them, the study found. While more than half of the women expected to self-fund retirement using 401ks, savings, and investments, almost half did not have a clear retirement strategy in place. Over half confessed to guessing the amount of savings they would need for retirement. 22% were "not sure" how their savings were invested, and 75% did not feel that they knew as much as they should about retirement investing. A lack of confidence in retirement was also apparent- more than half did not feel confident in their ability to retire comfortably.
The Solo 401k plan offers advantages that can serve in a powerful retirement strategy. The IRS-qualified plan is a traditional 401k that is simplified for the self-employed and small business owner. The plan affords additional options to participants, such as high contribution limits, unlimited investment capabilities, checkbook control, and loan feature. These features give participants the advantage in building and diversifying retirement savings.
Recent increases in Solo 401k contribution limits allow those age 50 and above to shelter up to $56,500 per year. For those under the age of 50, up to $51,000 can be contributed per year. Account funds can be used for both traditional and non-traditional investments, such as real estate and precious metals. The plan's virtually unlimited investment capability gives participants the ability to achieve true diversification- not just in one class, but in as many as desired. The Solo 401k gives checkbook control, enabling participants to make investments with the ease and speed of writing a check. A loan feature is also available with the plan- up to $50,000 can be borrowed from the account for any purpose.
The Solo 401k plan enables participants to achieve their retirement goals. The unique features of the plan can be a powerful addition to a participant's retirement strategy. In light of the challenges facing women today, the Solo 401k offers the tools to achieve a financially secure retirement.
About Sense Financial Services:
Sense Financial is California's leading provider of retirement accounts with "Checkbook Control": the Solo 401k and the Checkbook IRA. Over the years, they have assisted hundreds of clients obtain checkbook control over their retirement accounts while providing them with the ability to invest in virtually any investment class, including real estate, private lending, mortgage notes and much more without the need for custodian approval.
To learn more about the solutions they provide, please contact: (949) 228-9393.