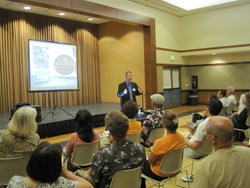 The Solo 401k is the perfect vehicle for investing in real estate
Los Angeles, CA (PRWEB) April 03, 2013
Los Angeles and Orange County residents attended a recent seminar on "Structuring Your Real Estate Investments." The event was held on Tuesday, March 19, 2013 in Yorba Linda, CA. The seminar focused on the use of the self-directed Solo 401k retirement plan to finance real estate investments. If structured carefully, these investments can become a profitable source of passive income.
The first presentation by Mathew Owens highlighted the strategies and structures needed for real estate investments, including the components of due diligence and the importance of assembling a reliable team. His investment system involves property analysis, acquisition, exit strategy, and financing. As founder of OCG Properties, Mr. Owens is active in both investing and educating clients in financial literacy. His company provides consulting, analysis, and assistance in the purchase of real estate investment properties.
Mr. Owens also stressed the importance of developing a strategic financial plan, which included the use of a self-directed retirement account. Self-directed retirement plans such as the Solo 401k are the best way to compound interest, save on taxes, and reach retirement goals faster, he stated.
The second presentation focused on the self-directed Solo 401k retirement account. The IRS-qualified plan is traditional 401k that has been simplified for the self-employed and small business owner. For those who qualify, it provides the most advantages, explained Dmitriy Fomichenko, president of Sense Financial Services. His presentation "The Ultimate Retirement Plan" illustrated Solo 401k rules and features, such as:

Checkbook control
High contribution limits of $51,000 for those under the age of 50, or $56,500 for those age 50 and above
Loan feature of up to $50,000 for any purpose
Cost-effective administration
Exemption from UDFI
Unlimited investment capability
The unlimited investment capability of the Solo 401k allows investments in both traditional and non-traditional assets, such as real estate. Funds from the account can be invested in a variety of real estate opportunities such as foreclosures and rental properties. All income and gains from the investment return to the Solo 401k account to grow, tax-deferred.
The Solo 401k is the perfect vehicle for investing in real estate. As part of an investment strategy, the retirement plan can be used to create one or more sources of passive income. Its features give participants the ability to grow and diversify retirement savings.
About Sense Financial Services:
Sense Financial is California's leading provider of retirement accounts with "Checkbook Control": the Solo 401k and the Checkbook IRA. Over the years, they have assisted hundreds of clients obtain checkbook control over their retirement accounts while providing them with the ability to invest in virtually any investment class, including real estate, private lending, mortgage notes and much more without the need for custodian approval.
To learn more about the solutions they provide, please contact: (949) 228-9393.