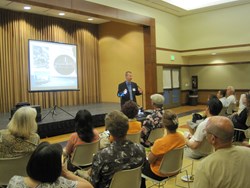 The Solo 401k has almost unlimited investment capability
Los Angeles, CA (PRWEB) March 08, 2013
Generating passive income in today's market was the focus of a recent event in Los Angeles. The highly attended "Create Cashflow through Note Investing" seminar was held on Tuesday, February 26th in Culver City, CA. Event attendees learned about investing in notes and the investment capability of the self-directed Solo 401k retirement plan. Additional topics included Solo 401k rules and advantages.
The Solo 401k plan allows participants to diversify retirement savings through self-directed investing. The plan is also known as the Individual 401k or Owner-Only 401k. Funds from the plan can be used to invest in almost every asset class, such as real estate, private businesses, notes, and precious metals.
The plan is available to self-employed and small business owners with one employee, with the exception of a spouse who is also involved in the business. Solo 401k rules are the same as traditional 401k plans. However, the plan's structure affords more options, such as checkbook control, high contribution limits, loan feature of up to $50,000, and virtually unlimited investment capability.
Solo 401k rules allow for the use of plan funds to purchase notes from a third party. Plan participants are responsible for determining the terms of the note. These include: the amount of the note, the rate of interest, the maturity date, the payment dates, and the guidelines for dealing with possible default. The note can be secured to property or equipment as a form of collateral. All income, profit, and gains from the note are returned to the Solo 401k account to keep the plan from being taxed.
Asset Ventures LLC President Anthony Martinez also highlighted the potential of notes to create wealth. Mr. Martinez is considered an expert in notes; he is regularly asked to appear on various tv, radio, print, and internet programs to speak on note investing. His company specializes in the acquisition and resolution for the note industry. It facilitates the purchase and sale of real estate notes for its clients, as well as providing investment courses and coaching.
Note investing can provide a source of passive income in today's market. Self-directed retirement plans allow access to funds for investing in these opportunities. Event attendees learned of these strategies as well as the Solo 401k rules for investing and diversifying retirement savings.
About Sense Financial Services:
Sense Financial is California's leading provider of retirement accounts with "Checkbook Control": the Solo 401k and the Checkbook IRA. Over the years, they have assisted hundreds of clients obtain checkbook control over their retirement accounts while providing them with the ability to invest in virtually any investment class, including real estate, private lending, mortgage notes and much more without the need for custodian approval.
To learn more about the solutions they provide, please contact: (949) 228-9393.