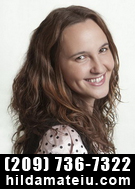 Any business in San Diego needs a good marketer.
San Diego, CA (PRWEB) March 29, 2013
SEO expert Hilda Mateiu, re-launched her website formerly known as San Diego SEO Consultant. All those who seek online marketing consulting services can now find her at http://www.hildamateiu.com.
The new webpage is very dynamic, up to date, highly user-friendly and oriented towards audits. Potential customers can read and learn more about search engine optimization starting from the basic information to the more advanced tactics.
"Any business in San Diego needs a good marketer. Online marketing strategies can boost your revenues within a few months, helping your business succeed. Business owners need to learn and be educated more about online marketing so they can take more initiatives and help their businesses grow."- says Hilda.
In addition to the up to date content information, Hilda's blog also provides the latest news and tips about search engines and various marketing tactics. Her services include audits for local, national, mobile, pay per click, branding and many more.
Hilda serves all San Diego County and nearby cities as Los Angeles, Beverly Hills, Newport Beach and Orange County.
Businesses that are in competitive spaces should consider optimizing their websites and applying online marketing strategies in order to outrank their competitors.
If you need an audit contact Hilda Mateiu, by calling (209) SEO - 7322.
"A well written custom SEO Audit will help you determine the problems in certain areas of your marketing. Based on competition you will be able to capture your share of the market; my strategies will help you drive traffic to your website and thereby enhance revenues and increase branding exposure." – quoted Hilda Mateiu.
About Hilda Mateiu
SEO expert Hilda Mateiu is successfully serving San Diegans for more than seven years. Among the professional services she offers are auditing and consulting for bigger brands and starting businesses as well.