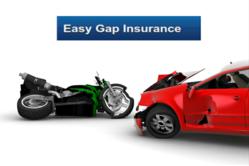 Gap Insurance online marketing is a competitive environment
Wirral, UK (PRWEB UK) 13 September 2012
Specialist UK Insurance provider, Aequitas Automotive, has hailed the success of a recently implemented online marketing campaign, that has seen record results for the company. Aequitas is the owner of leading Gap Insurance brands, Easy Gap and GapInsurance123, and has sought to implement a strategy to enhance the brands placing on the internet, as a company spokesperson explained.
"The challenge of promoting a specialist product like Gap Insurance is really two fold. The major hurdle to overcome is that consumers are unaware of the existence of the product in the first place, so education and and quality information is required. However, the second issue is getting you information to the public. You may have the very best products and great detail within your website, but if no one finds it then you are going to struggle.
To begin with, we placed the campaign with a well known search engine optimisation agency, who specialised in this form of SEO marketing. However, the results were extremely poor and we were very disappointed with the service we had too.
We then took the bold decision to take the work 'in house', and have total control over our marketing campaign. We thought that by constructing a campaign specific to our niche industry, we may see better results. We found some immediate success and daily website visitors increased quickly. However, we could only validate the results completely when we launched our second brand, GapInsurance123. This time all SEO work was completed by ourselves and the results have been fantastic. Indeed today, website numbers are higher to GapInsurance123 than they are on Easy Gap and have been totally 'in house' from day one."
The Aequitas brand visibility increased still further in 2012, when both Easy Gap and GapInsurance123 were featured in the Which Report* on Gap Insurance. Which gave detailed analysis of Gap protection in the UK demonstrated that consumers could buy gap insurance independently from a motor dealer at a much cheaper price. This recognition has been welcomed by Aequitas Automotive, as the company spokesperson explained.
"It is fair to say it was a proud day for us to have both our brands featured in Which, who are recognised as a true independent source of reports. Indeed we were the only UK company to have two separate brands featured. The continued work with online marketing, coupled with exposure from institutions such as Which, has seen us post record results in 2012. This trend we certainly hope to see continue into 2013."
Aequitas added it hoped to implement the same strategy for new brands planned to launch for Gap Insurance and Tyre Insurance, and expect these brands to launch to market in the final quarter of 2012 and the first quarter of 2013.

as reported on Which.co.uk