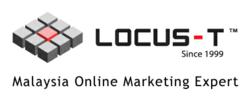 With experienced digital marketing professionals on hand to offer their expertise, LOCUS-T continues to help their clients with improving their online presence through SEO.
(PRWEB) March 29, 2013
As the vast majority of web traffic originates from organic search results, it is vital that a website is fully optimized in order to drive sales. LOCUS-T has recently introduces the new & improved SEO Service Packages to Malaysian businesses. The company believes that when a company's marketing strategy isn't as effective as it should be, it might not know how this situation can be overturned. online Marketing is just as vital as having a presence in local media such as newspapers and television/radio advertisements. As nearly a third of the world's population have access to the internet, it is in a company's best interests that its website can be found easily.
LOCUS-T continues to prove themselves as experts in Search Engine Optimisation (SEO). When a Malaysian business's website is optimised because keywords appear on a minimal number of occasions, it can be found by web users. In this quarter of year, LOCUS-T has launches a more powerful and result proven SEO packages to fulfill the demand & requirements of most of the Malaysia businesses. LOCUS-T's SEO services can also abide by Google's Penguin update which aims to stop websites that use keywords on too many occasions from having a high search ranking. The terms and phrases which should be present on a website are explained to LOCUS-T in advance. These can be focused on so that when they are searched for on Google and Bing, they have the potential to appear highly.
The first company in Malaysia to be a Google AdWords Certified Partner and Yahoo! Search Marketing (SEA) Authorised Reseller, LOCUS-T only uses systems which have been certified as anISO 9001 Quality Management System. As much of Malaysia's population is online, there is a huge potential for businesses in this country to see their profits soar. LOCUS-T only charges competitive prices for helping Malaysian clients and those in other countries around the world. The budget which its clients have is bound to be met no matter how long this leading digital marketing agency works alongside them for.
As LOCUS-T guarantees a very high Return on Investment (ROI) for all clients, not only can a business in Malaysia expect its profits to soar but, thanks to this form of online marketing, its presence on the World Wide Web can improve substantially.
About LOCUS-T ONLINE SDN BHD
A digital marketing agency with extensive experience and utilising a unique approach, LOCUS-T is able to offer an exceptional service in regards to remarketing a website. With highly qualified professionals on hand which can benefit their clients in whatever way possible, LOCUS-T was the first company in Malaysia to be a Google AdWords Certified Partner and Yahoo! Search Marketing (SEA) Authorised Reseller.
Contact
Company Name- LOCUS-T
Telephone Number- 603-7118 2173
Fax Number- 603-7118 2176
Email Address- sales.my(at)locus-t(dot)com
Website Address- http://www.locus-t.com