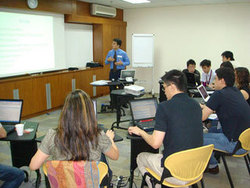 I have learned and understood more in depth about SEO.
Singapore (PRWEB) July 23, 2008
Finggle Pte Ltd, a SEO training company based in Singapore, in collaboration with Singapore Media Academy(SMA), will conduct the second in-house SEO Workshop for MediaCorp, Singapore's largest broadcaster, on 29 July 2008.
Timothy Goh, Vice President of New Media Business, who oversees MediaCorp's portals, websites and forums, shared, "If you are in the online business or traditional business, and you are nowhere in the web of today, then it is important for you to participate in this particular (SEO) training, then you will have a better appreciation of where your online businesses are going and what needs to be done... in the web economy as a whole."
Those who attended the first SEO training in early July include managers and executives who are involved in marketing, content management, multimedia production, business IT system and web design.
One of the participants, Content Manager, Vani said, "I have learned and understood more in depth about SEO." With regards to what she found to be most satisfying about the SEO workshop, she added, "I can relate it to my work. Very relevant."
During the two-day intensive workshop, a broad range of topics were covered: from Web Usability to Web Analytics to Social Media Marketing, on top of the regular SEO topics such as keyword strategy, site structure, content optimization and link building campaign.
Participants were actively involved in discussion groups on keyword research and case studies on competitors' sites. The highlight of the training was the challenge to get each participant's newly created web page indexed and ranked in Google search results within 48 hours. More than 70% of the participants were able to get their web pages ranked among the first 2 pages in Google for the keywords they targeted.
Lim C. Kwang, Senior Manager (Business System), commented after the 2-day training that he benefited and gained "a better understanding of overall area to take care of for SEO as well as analysis skillset".
To find out more information on the SEO Workshop and related SEO Web Design Course, please visit http://www.finggle.com
About MediaCorp
MediaCorp is Singapore's largest broadcaster and leading media company with the most complete range of platforms, spanning television, radio, newspapers, magazines, movies and digital media. Among the many award winning websites which MediaCorp owned are ChannelNewsAsia.com, MediaCorpRadio.sg, KidsCentral.sg and online classified portal Mocca.com.
About Singapore Media Academy
Singapore Media Academy offers world-class training, educational and consultancy services to the local and regional media industries. Consolidating over 40 years of expertise in broadcasting and managing media in Singapore, the academy provides training and qualification through accredited, practical and market-relevant programmes. SMA is a wholly-owned subsidiary of MediaCorp.
About Finggle Pte Ltd
Finggle Pte Ltd is one of the first and leading training company to offer professional search engine optimization training in Singapore. Besides customized in-house training for corporate, Finggle offers regular SEO training workshops and web design courses for online business owners, marketing executives, IT professional and lecturers in ICT and digital media.
Contact:
Jolly Tan, Director of Internet Marketing
Finggle Pte Ltd
+65-6100-1193
###