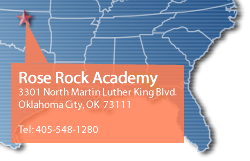 Oklahoma City, OK (PRWEB) March 03, 2013
Rose Rock Academy was established in 2007 to provide treatment for male and female children ages five through 17, diagnosed with autism. The Academy is committed to providing a tailored, highly-structured environment with 24-hour nursing care to foster academic and personal development. They recently underscored that dedication with two important milestones.
In August of 2012, Rose Rock Academy received official recognition from the Oklahoma Private School Accreditation Commission (OPSAC). Rose Rock is fully accredited in grades PK – 12 by the North Central Association – Commission on Accreditation and School Improvement (NCA-CASI). NCA-CASI is a member organization of OPSAC. Rose Rock's accreditation is fully recognized by the Oklahoma State Department of Education and the Oklahoma State Board of Education.
Rose Rock received accreditation in 2010 after a rigorous comprehensive process that evaluated all the parts of the institution. The accreditation process focuses on the school's vision and goals, evaluates teaching and learning, and how results are documented and resources are allocated. The process includes both a comprehensive self study as well as an objective external review of the school. Students benefit from the Academy's continued accreditation through objective evaluation, transparency, strong educational programs, and ability to transfer credits.
September 2012 marked another achievement. Rose Rock Academy's Educational Director since 2008, Paul Boer, M.Ed. received Board Certification as a Behavioral Analyst. This qualification brings a functional assessment and treatment process known as Applied Behavioral Analysis (ABA) to the Rose Rock campus. His training included use of scientific principles to effectively teach and motivate children diagnosed at all levels of the autism spectrum.
Executive Director, Diane Bedell, expressed pride in the Academy's pledge to aid in the development of children with autism through advanced techniques. "Maintaining our standing as an accredited institution tells the families of these very special kids that we will be there for them – nurturing, teaching, and guiding their children every day. Mr. Boer's personal drive to obtain Board certification is additional evidence of the Rose Rock philosophy."
Autism is a group of developmental brain disorders, collectively called autism spectrum disorder (ASD). The term "spectrum" refers to the wide range of symptoms, skills, and levels of impairment, or disability, that children with ASD can have. Some children are mildly impaired by their symptoms, but others are severely disabled. Autism results in varying degrees of difficulty in communication (both verbal and nonverbal), social interaction, and repetitive behaviors. Rose Rock attends to the needs of autistic children who are medically stable, but whose symptoms necessitate 24 hour residential care.
For more information about Rose Rock Academy or the accreditation process, please contact:
Paul Boer, Sr., M.Ed., BCBA
Education Director
Rose Rock Academy
3301 North MLK Avenue
Oklahoma City, OK 73111
Phone: 405.548.1280, Extension 148
paul.boer(at)roserockacademy(dot)org
Carolyn Gasiorek
Vice President of Postsecondary Education
Postsecondary NCA CASI Education Office
9115 Westside Parkway
Alpharetta, GA 30009
Phone: 888.413.3669, Extension 5747
cgasiorek(at)ncacasi(dot)org
Oklahoma Private School Accreditation Commission
2448 East 81st Street
Tulsa, OK 74137
Phone: 918.493.8880
###