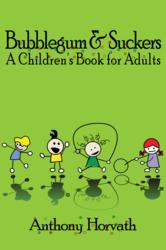 Unlike Santa Claus with his many elves, we can't continue to print money out of thin air without there being a consequence. - Anthony Horvath
Holmen, Wisconsin (PRWEB) March 02, 2013
Bard and Book author Anthony Horvath is known for tackling tough issues in his essays and books but every now and then he finds that he can express himself best through a short story.
In light of President Barack Obama signing into effect the sequester bill and cutting $85 billion from the US budget, Horvath's recently released short story Bubblegum and Suckers: A Children's Book for Adults will have new significance.
In the story, children raid the halls of power, demanding and receiving goody after goody, without any concern or consideration that someone, somewhere, will have to pay for those goodies.
Horvath says, "The problem, as the children discover, is that eventually there isn't any money to pay for those goodies. Unlike Santa Claus with his many elves, we can't continue to print money out of thin air without there being a consequence. As the fiscal cliff has come and gone (and with Congress effectively putting off dealing with the underlying issue), and now with the sequestration, one would have hoped that American citizens would have taken seriously what is on the verge of happening and aware of how we got here in the first place. You can't say we got here because taxes aren't high enough on rich people. The debt is now so high that taking 100% of every dollar of every American won't pay for the debt. We got here by running up the credit card, and the payment is about to come do."
"Bubblegum and Suckers" is available on Kindle and is also available for download on Smashwords.
Anthony Horvath is a member of the Bard and Book author community. Bard and Book releases short stories and novels on a regular basis that are available for free to members.