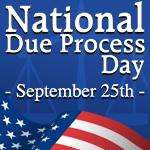 Our hope is that through helping raise awareness about this day the general public will gain a better understanding of the important role that process servers and legal professionals play in court proceedings.
Denver, CO (PRWEB) September 18, 2012
With September 25th marking the first annual National Due Process Day, ServeNow.com has been working to help promote the event within the legal community.
National Due Process Day was created by the National Association of Professional Process Servers. The annual holiday aims to celebrate the Fifth Amendment to the Constitution, which protects every American's right to a fair trial and to be alerted within a reasonable time. As a trusted network of pre-screened process servers, ServeNow.com has worked to help raise awareness about the holiday within the legal community. The campaign offers an opportunity to better educate the public about due process and the important role that each member of the legal community plays in preserving that right.
The recently launched National Due Process Day page on the ServeNow.com website includes valuable resources, including open-ended pieces and flyers to distribute to local and national media as well as an embeddable badge for legal professionals to display on their websites.
Legal professionals are encouraged to:

Tweet about National Due Process Day
Share the page on Facebook and Google Plus
Embed the National Due Process Day badge on a company or association website
Blog about National Due Process Day and its importance
"It's great to have a set day to highlight this very important right," ServeNow.com co-founder Trent Carlyle explained. "Our hope is that through helping to raise awareness about this day the general public will gain a better understanding of the important role that process servers and legal professionals play in court proceedings."
About ServeNow.com:
ServeNow.com, a subsidiary of LAWgical, is the most widely used source for finding process servers worldwide. ServeNow.com assists lawyers, paralegals, legal assistants, and the public in locating local process servers and legal support professionals.
Contact:
ServeNow.com
2854 Larimer Street
Denver, CO 80205