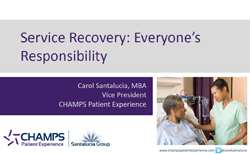 Cleveland (PRWEB) March 05, 2013
On Wednesday, Feb. 27, 2013, CHAMPS Patient Experience Vice President Carol Santalucia presented during an RL Solutions service recovery webinar. Her presentation, "Service Recovery: It's Everyone's Responsibility," walked attendees through a best practice that empowers employees at every level of the organization to embrace complaints and address them at the point-of-service.
The service recovery webinar, gave attendees a better understanding of the definition of service recovery, why it is important, effective empathetic techniques that can be used during service recovery and the components that are part of a successful service recovery program.
Santalucia's service recovery webinar presentation is now available to watch on-demand and her slides are available for download. CHAMPS' Toya Gorley also weighed in on the topic in her recent PX Perspective blog post on exceptional service recovery.
For more information on Santalucia's service recovery webinar presentation or to learn more about CHAMPS Patient Experience, contact Carol Santalucia at 216.255.3636 or carol.santalucia@chanet.org.
###
In partnership with Santalucia Group, CHAMPS Patient Experience offers a variety of services to enhance the patient experience. Led by Carol Santalucia, a recognized leader in patient experience with more than 30 years of expertise, CHAMPS offers outcomes-based services designed to create an optimal patient experience. CHAMPS specialists will develop a series of customized recommendations and services that include: creating a patient-centered culture, improving the patient experience as measured by CAHPS, developing and implementing a patient navigation program, delivering patient-focused keynote presentations and providing opportunities for healthcare leaders and managers to share best practices. To learn more visit champspatientexperience.com.