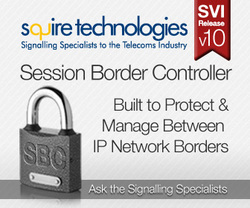 (PRWeb UK) February 3, 2011
Squire Technologies SVI Release v10 provides sophisticated enhancements to the 'All IP' Session Border Controller (SVI-SBC) with key manageability and protection upgrades.
At Squire Technologies we are dedicated to ensuring the Session Border Controller continually improves its ability to police real-time media traffic between IP network borders ensuring your private network is robustly secure and fully manageable well into the future.
With a significant rise in internet crime this SBC secures the IP network boundary from attack with resilient firewall protection while supporting the management of unified or distributed signalling deployments of a Carrier Grade Class 4 Softswitch.
Session Border Controller Enhancements include:-

Intelligent Rule Builder - Allowing users to easily create a profile of rules for trusted and non-trusted networks, with intuitive rule copying.
Automatic Trusted Media Identification (ATMI) - Automatically identifies and learns trusted media IP addresses in real-time.
Pre-Installed 'Rule Profiles'
A deployment of SBC ensures you are fortifying your network border while simplifying the process of managing interconnects with a large number of IP end points.
Providing protection against types of attack including:-

ICMP Flood
SYN Flood
Fraggle Attack
Smurf Attack
INVITE of Death
Squire Technologies, http://www.squire-technologies.com
Squire Technologies provides leading edge NGN and TDM telecommunication products and solutions with world-class installation and support services to deliver carrier grade products worldwide. Supporting high availability, scalability with a fully featured management system, catering for both small interconnect up to large international points of presence.
To implement network security as part of your strategy, contact sales at Squire Technologies.
t: +44 1305 757314
e: enquiries(at)squire-technologies(dot)com
w: http://www.squire-technologies.com
# # #