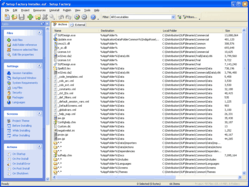 Releasing a version of Setup Factory that is Windows 8 compatible ensures that our customers' software installers will work on the widest variety of systems possible.
Winnipeg, MB (PRWEB) June 29, 2012
Indigo Rose Software announces the immediate availability of Setup Factory 9.1 featuring full compatibility with the upcoming release of Microsoft Windows 8. Software developers can now build a single software installer program that is ready for use on Microsoft Windows 8 as well as other popular releases, including both 32-bit and 64-bit versions of Windows 7, Windows Server 2012, Windows Server 2008, Windows Vista and Windows XP.
Setup Factory's intuitive design environment streamlines the process of making professional Windows installers. Users can create software setup programs in minutes by simply dragging and dropping files onto the project window, and clicking the build button. The end result is a compact, single-file installer suited for distribution by web, LAN, CD, DVD and USB drives.
While easy to use, Setup Factory 9.1 offers developers complete control over the look and functionality of their software installation programs. Users can customize install wizard dialogs and themes with their own designs, or by choosing from dozens of pre-made themes. Setup Factory 9.1 also includes a flexible scripting language with hundreds of script actions enabling advanced installation tasks, including everything from system services and file permissions to interacting with web scripts.
"Indigo Rose is excited to launch this new version of Setup Factory," said Colin Adams, President of Indigo Rose Software. "Releasing a version of Setup Factory that is certified Windows 8 compatible ensures that our customers can deploy their software development projects on the widest variety of systems possible. It's just one more reason that over 100,000 developers worldwide rely on Indigo Rose's software development tools."
Other features of Setup Factory include high performance LZMA2 data compression, automatic Authenticode signing, support for multi-gigabyte files, an extensive Windows Installer MSI action library, auto-detecting international language support, HTML-based project reports, silent installs, support for automated builds and much more.
Setup Factory 9.1 sells for $395 (US$) per developer or $995 for the Five Developer Team Pack. It can be purchased through all major software development tools resellers, or directly from Indigo Rose Software's website at http://www.indigorose.com/buy-now/.
For more information about Setup Factory 9.1, visit http://www.indigorose.com/products/setup-factory/. A free 30-day trial download is available from the company's website.
About Indigo Rose Software Corporation
Privately held, Indigo Rose Software has been developing innovative software products and multimedia authoring tools since 1991 that are used by thousands of corporate, government and ISV customers around the world. Indigo Rose is headquartered in Winnipeg, Canada.