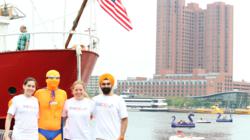 Seva Call is a simple way for Richmond-area businesses to find new customers.
Richmond, VA (PRWEB) August 02, 2012
Seva Call, a virtual concierge service designed to match consumers with service needs to high quality local service professionals, is launching its service in Richmond. Seva Call finds the "right" professional by looking at a variety of factors including online ratings and reviews, social reputation and interaction, call analytics, and other forms of consumer and business feedback.
"Seva Call is a simple way for Richmond-area businesses to find new customers," says Gurpreet Singh, CEO and cofounder of Seva Call. "Even businesses that are consistently booked all day have windows of down time. Seva Call gives these companies a way to fill in holes in their schedule and maximize profit."
According to a 2011 fonality.com report, employees waste 74 minutes per day trying to get in touch with people such as customers. Additionally, 36% of wasted time is spent trying to contact people, find information and schedule meetings, and 14% of time wasted is spent dealing with unwanted communication. Seva Call aims to reduce time wasted by sending leads directly to companies and allowing companies pre-screen the leads.
Consumers in need of service enter a description of their service needs, along with location and availability. This information is relayed for free via telephone call to the businesses. If the businesses who receive the request are interested accepting them, they simply press "5" and Seva Call will connect them directly to the consumers.
Seva Call serves businesses in a wide range of service categories, from computer repair to tree removal, and over 40 others. Companies interested in registering to receive the leads need only visit Seva Call's registration page.
Seva Call, which is based in Potomac, Md., has launched its service in Washington D.C. and Baltimore. Within the next few months, the service will be live in Philadelphia, Boston, and New York. The team will also release Seva Call apps for Android and iPhone in the near future.