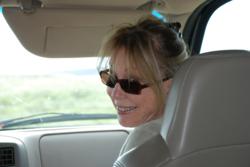 Southern Rockies Eco Adventures is a new way to enjoy nature at its best and experience the centuries of history and culture of New Mexico and the American Southwest.
Santa Fe, New Mexico (PRWEB) January 27, 2012
Seven Directions Tours and Santa Fe Walkabouts have joined their experience and passion for the magical beauty of New Mexico and the Southwest to create quality adventures that are enlightening and fun. Their new partnership's multi-day adventures, Southern Rockies Eco Adventures, combine slow paced cultural sightseeing trips with direct experiences into nature and bring together the region's unique history and culture, and the diverse and marvelous natural settings, mountains, canyons, and rivers.
At the core of Southern Rockies Eco Adventures' philosophy are respect for the wilderness areas and their wildlife, a wise use of the land, and the commitment to value and honor the cultures and traditions of the Southern Rockies.
The knowledge of Seven Directions Tours in designing and delivering unique tours and getaways and the experience in taking adventurous spirits on amazing pristine trails, canyons, and slopes garnered by Santa Fe Walkabouts are supported by the respective skills in creating exciting adventures in a highly professional and impeccable way. This is now available in several unique multi-activity packages, all of which can be customized at travelers' request.
The multi-day adventures offered by Southern Rockies Eco Adventures include hiking or biking on the mountain ranges surrounding Santa Fe, Taos, and Southern Colorado; spending a day at centuries-old archaeological sites, like Chaco Canyon, Mesa Verde or Canyon de Chelly, to hear the voices from the past and climb to the most distant dwellings. Alternatively one can choose three adventure-rich days in a comfortable campsite, with three meals a day, along the Chama River in Georgia O'Keeffe Country where other activities are made available, from horseback riding in the wilderness to reading Native poetry.
"Sue, Georges and I are very excited to be able to create something not widely available," said Patrizia Antonicelli, owner of Seven Directions Tours, "and we are confident that it will be a lot of fun both for our guests and ourselves."
This group is uniquely equipped to serve travelers from different countries and cultures. Sue was born in Myanmar, and lived in Malaysia for several years, before moving to the United States. Georges has his roots in Bulgaria and France, and speaks his native languages fluently as well as Russian, whilst Patrizia is a native Italian, who lived in London, and has extensive traveling experience. They all met in Santa Fe, New Mexico!
In essence, at Southern Rockies Eco Adventures one will find the best personal attention, very knowledgeable and dynamic people who can craft the most satisfying experience, based on the profound knowledge of their land, as well as organize all essential components of each adventure, including accommodation, transportation, and an exceptional service.
New adventures are always posted on the website. Coming soon an adventure featuring hard to find Native Pictographs, a full immersion in nature, and the intriguing saga of the atomic Manhattan Project.
For further information and media inquiries: Patrizia Antonicelli – Tel.505.820.3305
About Seven Directions Tours:
Seven Directions | Cultural and Sustainable Tours has established itself as one of the finest sustainable tour operators in the Southwest. They facilitate exceptional tours that create a memorable and authentic experience that is relaxing and profound in every respect. Seven Directions Tours caters to a wide-ranging audience that seeks a hands-on experience by putting them in touch with the landscape and the people. Clients learn salient information in the comfort of a tour they can customize. Seven Directions Tours can accommodate large and small groups, and individuals. They also specialize in Fly & Drive programs that clients can take on by themselves. To learn more about Seven Directions visit them at http://www.sevendirections.net.
# # #