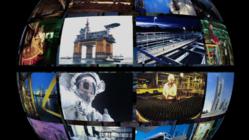 (PRWEB) March 11, 2013
Hollywood's premiere professional video production company, Seven Pictures, is sharing essential visual marketing tips for businesses who wish to capitalize on the growing video communication trend. Recent research supports the idea that visual communication can be more powerful than verbal communication, suggesting in many instances that people learn and retain information that is presented to them visually much better than that which is only provided verbally, according to an article by HP. For businesses who wish to take advantage of the success of visual communication, Seven Pictures has identified the key components of effective visual marketing through the use of highly effective corporate video production.
"A lot of people tend to be visual learners and need to see something visual in order to establish their interest. It's also said that in order for people to make a decision, they first need to understand," says Asbjorn Christiansen, Creative Director at Seven Pictures. So if you're trying to sell a prospect and they don't fully and completely understand what you're selling, well, you're making your life harder than it needs to be."
New studies show that people only remember 10% of what they hear and 20% of what they read, but about 80% of what they see and do, according to psychologist Jerome Bruner of New York University. Similarly, researchers at the Wharton School of Business compared visual presentations and purely verbal presentations and found that presenters using visual language were considered more persuasive by their audiences, 67% of whom felt that presenters who combined visual and verbal components were more persuasive.
The use of online video marketing as an effective business solution involves three important visual aid aspects, according to professional film and video production specialists at Seven Pictures.
1. Showcase your company and what you do
2. Present your CEO and upper management
3. Demonstrate a product or service, or communicate an overall message
"People are receiving an overload of information every day. Therefore, businesses must arm their marketing and sales team with visual material like videos to communicate what they do and how, and get these out in front of the prospect," says Christiansen.
For more information visit http://www.SevenPictures.com/
About Seven Pictures
Seven Pictures takes a meticulous and disciplined approach toward video production. With over 20 years of experience in the industry they specialize in creating cinematic quality product videos, corporate videos, training videos, and TV commercials with unparalleled craftsmanship. Seven Pictures is a pioneer who understands that a high quality video production is more than just point and shoot—it's about delivering visionary ideas and executing something spectacular.